Native American coinage is a fast-growing area of collecting!
Things associated with the Old American West have special appeal around the world. And coins issued by Native American tribes, or their traditional culture, are a popular new focus of the collecting hobby!
Coins issued by Native American tribes
A few hundred tribes are recognized by the U.S. government as sovereign nations, so they are authorized to issue their own commemorative coins. Over a dozen have done so, including the Shawnee, Sioux and Jamul Nations as well as several tribes of California. The coins feature tribal members in traditional attire, famous chiefs, cultural symbols and more. Sales of the commemoratives bring in revenue, and more tribes are planning to issue coins.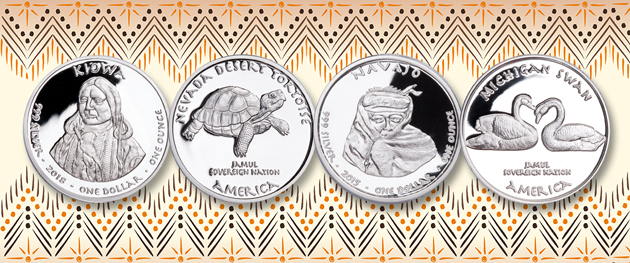 These coins have captured the interest of collectors around the world. They include individual coins, series collections and denomination sets from 1¢ to $1. An ongoing Jamul Nation silver dollar series is honoring prominent tribes and native wildlife in each of the 50 states.
Coins honoring Native American heritage
The U.S. Mint first paid tribute to Native Americans on coinage during the mid-1800s. However, coin law required these issues to feature an image of Liberty. So the earliest tributes to Native Americans were actually images of Liberty wearing an Indian headdress!
The first such coins were "Indian Princess" gold dollars of 1854-1889. The second image of Liberty with an Indian headdress was on "Indian Head" cents of 1859-1909. These beloved pennies, struck for half a century, are considered America's most attractive copper coins.
U.S. $10 gold coins of 1907-1933, designed by Augustus Saint-Gaudens, depict Liberty wearing an Indian war bonnet. However, $2.50 and $5.00 gold pieces of 1908-1929 picture an actual Native American chief. The famous "Buffalo" or "Indian Head" nickel of 1913-1938, depicting a plains bison and an Indian chief, is considered the most uniquely American design.
"Indian coinage" of the modern era
The modern era of "Indian coinage" kicked off with golden-colored dollars of 2000 to the present. The obverse depicts Sacagawea, the young Shoshone guide for the Lewis & Clark Exposition. Since 2009, the reverse of these coins has honored contributions by Native American tribes and individuals.
Now, a new quarter series from Littleton is honoring a well-known Native American tribe from each of the 50 states. The quarters are issued by the Jamul Nation and are available exclusively from Littleton in North America. The first two coins honor the Apache tribe of Arizona and Iroquois tribe of Pennsylvania. And store this new series in a custom folder, available exclusively from Littleton Coin Company!
If you enjoy Native American coinage, please let us know your favorites and any other comments you wish to share.