National Coin Week 2022 Celebrates
Dynamic Designs & Artistic Masterpieces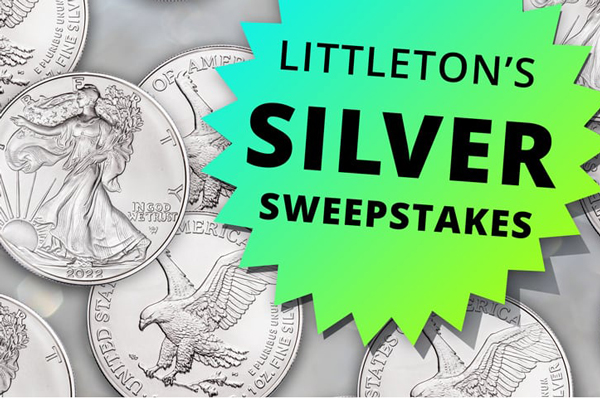 It's almost here! Next week, we'll celebrate the 99th annual National Coin Week! This year's theme – Dynamic Designs & Artistic Masterpieces – is a tribute to numismatic art throughout history, and the skilled artists who have created it.
In celebration of National Coin Week, Littleton Coin Company is running our annual sweepstakes throughout the month of April! For each full week in April, we'll be giving away a single 2022 American Silver Eagle dollar. Then, in mid-May, we'll draw a grand prize winner – who will receive fifty 2022 American Silver Eagles! For your chance to win, register now on our website!
Celebrating coins throughout history
This bronze coin was hand-struck over 2,300 years ago!
Since the earliest days of coinage, money has served as a canvas for art and communication. That's because collectibles help bring the past to life once again! Whether you hold a 50, 200, or 2,000-year-old coin in your hand, you can't help but think about where it's been in its lifetime, or who could have held it…
Though the first coins are actually attributed to Lydia in Asia Minor around 600-700 B.C., it is now believed that bronze coins were used in China several hundred years earlier. Today, not only are coins from ancient times highly sought-after by collectors, but in many cases they're also surprisingly affordable! Imagine… it's possible to own a coin struck by hand over 2,300 years ago in the lost city of Birytis, without breaking the bank!
A tradition that continues to this day
It's hard to cover all the beautifully artistic coins that have been issued throughout U.S. history. It might take all of National Coin Week to do so! Given their large size, classic U.S. silver dollars have consistently been regarded as beautiful by collectors.
Two of the most highly-regarded coin designs from America's past are the Liberty Walking half dollar and the Mercury dime. Both designs were issued through both WWI and WWII, and both feature beloved depictions of Liberty. In fact, the image of Liberty Walking on the half dollar was so popular, it was brought back for the American Silver Eagles of 1986-date!
Honoring the best of the best
For numismatists, this year's National Coin Week represents a celebration of what makes our hobby special. Are there any coin artists or coin designs that you have a particular appreciation for? And for those of you joining our special sweepstakes giveaway – best of luck!