Morgan Silver Dollars – Symbol of the Great American Spirit
Silver dollars… specifically Morgan silver dollars, embody the rough-and-ready adventurous spirit that made America what it is today…. When gamblers anted up at the poker table, they threw in a silver dollar. When cowboys came in from a cattle drive, they were paid in Morgan dollars. And, when Jesse James and his brother Frank halted trains, they rode off with bags of these silver dollars slung across their saddles. Morgan dollars are truly coins of the West – 90% silver and 100% history.
These magnificent coins were struck from 1878 to 1904, then a final time in 1921. Take a look at one or hold it in your hand… Heavy and handsome, isn't it? Notice the distinctive Liberty obverse and proud eagle reverse – designs recalling an earlier America. It makes you feel like it's really something of historical significance and worth. That's one of the reasons I like them!
Capturing legends of the West
Morgans are rich in the mystique of the West, and I enjoy discovering the intriguing past they left behind. They recall tales of frontier towns that sprang up almost overnight from silver, and bring to life stories of the men and women who struck it rich, and lost it all… Men like Horace Tabor – Colorado's Silver King!
From Riches to Rags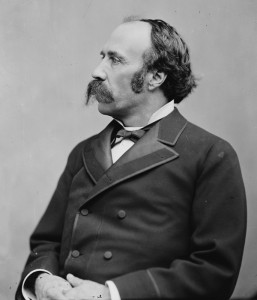 Horace A.W. Tabor, from Holland, Vermont, was a stonecutter before moving to Kansas and then on to Colorado. In Leadville, CO he became postmaster and his wife, Augusta, ran a store. In 1878, when Horace provided supplies and food to two miners in return for a "cut" of their profits, he became rich. He became Leadville's mayor and benefactor. It's said he spent $5,000 on a Christmas meal for miners, gave chandeliers to the church and built the Tabor Opera house.
He served as Lieutenant Governor of Colorado and even a short time as U.S. Senator. His flamboyant legacy grew when he met Elizabeth McCourt known as "Baby Doe," the belle of Oshkosh, Wisconsin. A few years later, he divorced his wife and they married… it's said their wedding invitations were engraved in pure silver. One of their daughters was named "Silver Dollar," her christening gown cost $15,000, and every diaper pin was fixed with a diamond… Then, during the Panic of 1893, his luck ran out. The price of silver plummeted and they lost everything.
This is just one tale of America's "silver rush," and Colorado's Silver King during the era of the Morgan dollar. In terms of money, these silver coins are now things of the past, but in terms of collector desirability, they remain one of the most sought after in the world! Nowadays, money can be an app on your phone, a plastic card, paper money, check or any smaller circulating coins… But none of those have the solid feel of big 90% silver Morgan dollars or their Wild West romance. Do you have a favorite tale of the West you'd like to share? Let me know.