Meet Littleton Coin this August in Chicago!
Thousands of coin and currency collectors are expected to converge at the World's Fair of Money when it opens August 13 just outside Chicago. The American Numismatic Association is putting the finishing touches on exciting programs that will fill the convention center in Rosemont, IL.
A fair highlight will be the Maynard Sundman Lecture series which this year focuses on a series of thought-provoking talks about cryptocurrency and the future of coin and currency collecting. The Littleton Coin Company underwrites this annual series in honor of our late founder. (See below for details)
As we prep for the fair, we decided to dive into our warehouse for interesting coins about Chicago, the Prairie State of Illinois and President Abraham Lincoln who began his political career when he was first elected to Congress in 1846 to represent Illinois.
Christopher Columbus lands on his first coin
If you're new to collecting, Chicago hosted the U.S. Mint's first opportunity to issue a commemorative coin. The year was 1892. The fair was called the World's Columbian Exposition. It was a mere 16 years after the nation's Centennial Exhibition in Philadelphia in which visitors experienced Alexander Bell's experimental telephone, tasted Heinz Tomato Ketchup, and watched a typist demonstrate Remington No. 1, the first commercially successful typewriter.
Chicago had to be bigger and better! And it was! Six hundred acres were carved from landscape designer Frederick Law Olmstead's Jackson Park on Lake Michigan. Intrepid visitors would ride George Ferris, Jr.'s rotating observation wheel, chew Wrigley's Juicy Fruit Gum and experience electricity as it powered a dishwasher and a moving sidewalk, each for the first time.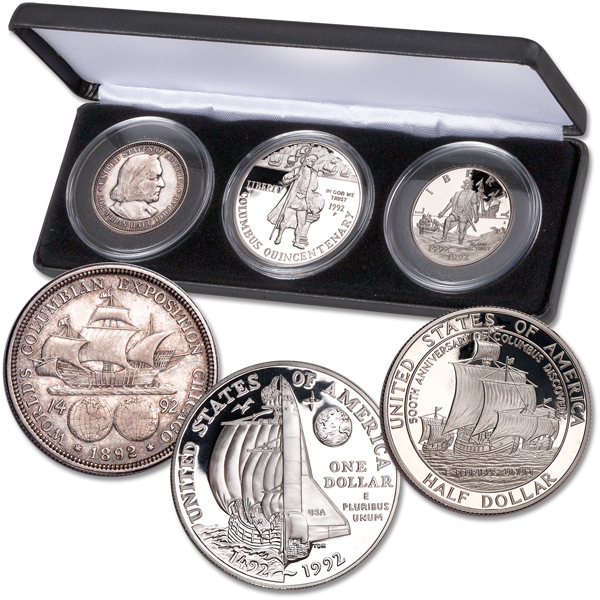 To promote this new age of modern discoveries, Congress made the decision to celebrate the quadricentennial, or 400th anniversary, of Christopher Columbus's first voyage to the Americas in 1492.
But how to cover the fair's construction costs? The U.S. Mint did its part by designing, striking, and offering for sale a commemorative half dollar that profiled Christopher Columbus on the obverse and his lead ship, the Santa Maria, on the reverse.
Fast-forward to 1992 and the 500th anniversary of Columbus's discovery. The U.S. Mint designed and struck both silver clad half dollars and 90% silver dollar Proofs to honor 500 years of progress in exploration. The silver dollar's design featured an unusual split image of the Santa Maria and the space shuttle Discovery. Littleton Coin has grouped all three commemorative coins into a special Columbus Commemorative Set (seen above right) for collectors.
Across Illinois – the Land of Lincoln
As the 20th century got underway, a number of states and cities celebrated their centennials by issuing silver half dollars, including one that the U.S. Mint issued in 1936 for Elgin, IL to help it raise money for a public sculpture honoring a symbolic pioneer family.
Now, jump into the 21st century and travel to southern Illinois! Nestled between the Mississippi and Ohio Rivers, the beautiful Shawnee National Forest provided inspiration for a quarter in the federal mint's celebrated national park series.
For young collectors, Littleton Coin Company has an attractive colorized state quarter for Illinois that features our 16th president Abraham Lincoln. Also for young and new collectors, there's a terrific Lincoln Cent Collecting Kit that comes with 20 coins.
Last, but not least from the Prairie State, President Lincoln is highlighted in a special, limited-edition American bank note struck in 10 grams of 99.9% silver with a pretty nifty 3D feature.
If you can't make this year's World's Fair of Money, you can tour Illinois coinage and think about how some of its issues might fit into your collection.
2019 Sundman Lectures Examine Cryptocurrency
If you plan on visiting the World's Fair of Money, stop by the Littleton Coin Company's booth where we'll be distributing bookmarks with the lecture series times and conference rooms in the Stephens Convention Center. Here's an advance peek at the line-up:
10:00 a.m.: Gary Adkins "Education's Role in the Future of Money"
11:15 a.m.: Michael Marotta "What Does the Future of Money Look Like?"
2:00 p.m.: Mark Benvenuto "Local Currencies in the Day of Global and Electric Money"
3:15 p.m.: Ron Guth "Back to the Future of Money"