Martin Luther King, Jr. Day – Honoring a Civil Rights Pioneer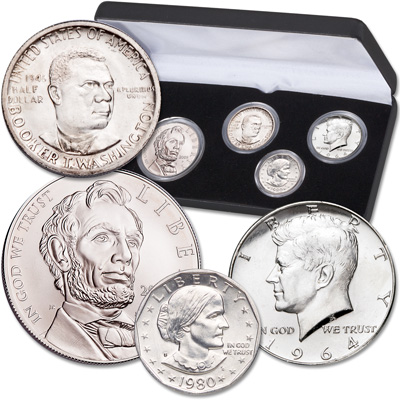 Civil Rights Advocates Set
As we stop to consider the great civil rights activists that have blazed trails through our nation's history, few shine as brightly as Dr. Martin Luther King, Jr. It's been more than 50 years since his assassination on the balcony of the Lorraine Motel in Memphis, TN in 1968. But, for more than a decade before that, Dr. King had been a devoted advocate for equality and human rights through peaceful protest.
A stellar start
Born January 15, 1929 in Atlanta, GA, Martin Luther King, Jr. was the second of three children born to Martin Luther King, Sr. and Alberta Williams King. He graduated from public school (which, at the time, was segregated) at age 15, then went on to study medicine and law at Morehouse College.
While at Morehouse, the school's president, Dr. Benjamin Mays, became a mentor to King. Mays was a candid supporter of racial equality, and he had a profound effect on the young man. King was inspired to continue his education, earning his doctorate in systematic theology from Boston University. In 1953, he wed Coretta Scott – a young singer he'd met while studying in Boston.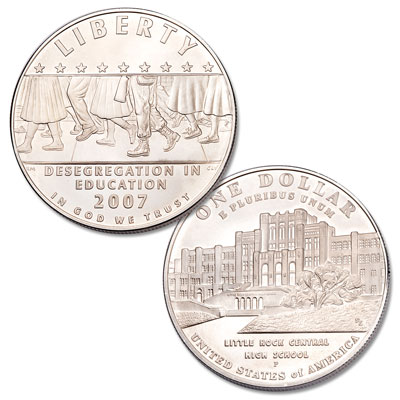 2007-P Little Rock Central High Desegregation Silver Dollar
The fight for equality
Soon after their wedding, the issue of equality sprung to the forefront of our nation's awareness. First came the Supreme Court's landmark Brown v. Board of Education decision, which ended segregation in public schools in 1954. This was followed closely by the arrest of Rosa Parks for her refusal to give up her seat on a Montgomery bus in December 1955. Dr. King spearheaded the subsequent Montgomery Bus Boycott. During this nonviolent protest, African Americans across Montgomery refused to ride city buses – the first large-scale protest against segregation in the U.S. It lasted 382 days, until December 21, 1956, when the Supreme Court declared laws requiring bus segregation as unconstitutional.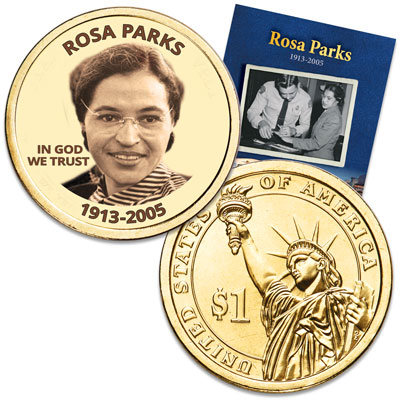 Prominent Women "Golden" Colorized Presidential Dollar – Rosa Parks
As the president of the Southern Christian Leadership Conference, King traveled more than 6 million miles, delivering over 2,500 public speeches, from 1957-1968. Thanks to his tireless efforts to shine the light on racial injustice, Dr. King was named as Time magazine's "Person of the Year" in their January 1964 issue. That same year, he became the youngest person ever to win the Nobel Peace Prize.
Sadly, his groundbreaking work was cut short on that fateful day in 1968. But each January, we honor his memory with Martin Luther King, Jr. Day – marked on the third Monday of the month.