Lost and Found Coin Hoards and Treasures
Q. David Bowers' stories captivate both collectors and
non-collectors alike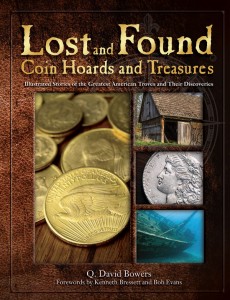 Indiana Jones, Treasure Island and the TV reality series The Curse of Oak Island… stories of adventure and riches have intrigued us for thousands of years. It was reading stories of "rare coins being found under surprising circumstances" that sparked Q. David Bowers' interest in rare coins and treasures.
Open the pages of his recently published Lost and Found Coin Hoards and Treasures, and you'll discover tales of American coin treasures and hoards buried, lost or otherwise, and that were later recovered. Beginning with finds discovered in the 1700s, the 480-page, hardcover book proceeds in a chronological fashion chapter by chapter.
Stories of Hidden & Sunken Treasures prove to be irresistible!
This attractive book graces my coffee table and proves to be irresistible to guests who immediately pick it up and browse through it. Inside, Bowers recounts the Castine Hoard story – a father and son's discovery of 400-500 coins in Maine in 1840; the tale of the ill-fated Donner Party; the wooden keg filled with large cents, known as the Randall hoard; and dozens of other stories. Photographs of coins, buildings and hoards, as well as illustrations and maps accompany many of the tales. I asked the numismatist author what his favorite stories are and here's what he said:
"I think that the S.S. Central America is part of my DNA – ditto for the S.S. Brother Jonathan and the S.S. New York! I… know the people involved, etc., these are all in the front rank. Plus, the great Treasury dispersal of rare silver dollars starting in November 1962 is a favorite, too. At the time and also, later I did a lot of interviews with the people involved. Among traditional hoards, I like the Randall hoard of 1816-1820 Large Cents – still unknown as to where the coins were found – under a railway platform in Georgia?"
— Q. David Bowers
Whether it's buried, in a shipwreck or a forgotten treasure, as in the fabulous U.S. Treasury hoard of the 1960s, you'll find it here and pass many enjoyable hours with this nicely researched and written book. Many of the caches of coins, precious bars and bank notes in the book had been unknown until they were discovered or became the stuff tales of treasure were made of, passing into numismatic lore, until they were recovered. And, for all those who still dream of finding treasure, there's still hope! Inside, you'll find two chapters devoted to undiscovered treasures on land and sea.
If you've ever dreamed of finding riches and love the lore of coins, then you'll want this handsome book.