Mint will break tradition by depicting a living person on a United States coin
Last updated October 2022
Editor's Note: While preparations had been made to release First Spouse coins honoring Nancy Reagan while she was still alive, she died on March 6, 2016, four months before the coins were officially released on July 1, 2016.
A recent U.S. Mint decision to include Ronald and Nancy Reagan issues in the soon-ending Presidential dollars and First Spouse $10 gold coins will put the image of a living person on a United States coin for just the second time in over 75 years. It took some "input" from Congress and the media to include Reagan coins in these series, as well as breaking a tradition established by America's Founding Fathers.
To differentiate our coins from European coinage depicting the reigning monarch, the Founding Fathers believed that an image of Liberty better represented our new form of self-government than any individual would. And during the first century of our nation, no U.S. coin even displayed the likeness of a deceased person, much less a living person!
Relaxing the rules at the U.S. Mint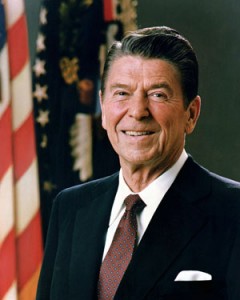 Coinage traditions were tempered when U.S. commemorative coins debuted in 1892 and began featuring actual individuals (appropriately beginning with Christopher Columbus). And during the 20th century, five U.S. commemoratives went so far as to depict living Americans.
I think we can all be sure that no living person will ever be seen on a circulating U.S. coin (true to the principles of the Founding Fathers), but of course, prominent presidents have been featured on circulating U.S. coins since the debut of the Lincoln cent in 1909.
When Presidential dollars and First Spouse $10 gold coins were authorized by the Presidential $1 Coin Act of 2005, the legislation specified that each dollar and corresponding gold coin would be minted and issued on the same schedule with four new issues per year – and limited the dollar series to former presidents who are deceased for at least two years before the coins are issued.
To me, and I'm sure to most Americans, that meant that all presidents from George Washington to Ronald Reagan, with the exception of Jimmy Carter who is still alive, would be featured on Presidential dollars. But the U.S. Mint stated on several occasions that the Presidential dollar series would end with a 2016 issue honoring Gerald R. Ford. All subsequent presidents were still alive with the exception of Ronald Reagan, but he was to be omitted for some undisclosed reason which may have included:
Jimmy Carter who preceded Reagan as president is still alive, so honoring Reagan with a Presidential dollar would create a "non-consecutive" series.
Presidential dollars and corresponding First Spouse $10 gold coins are to be issued simultaneously – however Reagan's spouse Nancy is still alive and the U.S. Mint traditionally does not issue coins depicting living persons.
The mint has a "change of heart"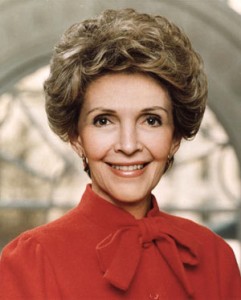 The plan to omit Ronald Reagan from the Presidential series elicited some frank commentary from the collecting community, members of Congress, and the general public (I saw numerous opinions ranging from sarcasm to indignation on the Internet). The coinage legislation did not seem to support omission of Reagan coins, and the 40th president is widely credited with restoring American pride and prestige, ending the Cold War and fostering an economic boom. If certain other "less-distinguished" leaders were featured on a Presidential dollar, surely Ronald Reagan deserved the same honor!
In February of this year, in response to a letter from a prominent Congressman arguing that the statute does provide for the issuance of Reagan Presidential and First Spouse coins, the U.S. Mint stated that its interpretation of the statute agreed with the Congressman, and that preliminary design work on the two Reagan coins had already begun. So assuming that Nancy Reagan will still be alive in mid-2016, she'll become the only living person to be depicted on a non-commemorative U.S. coin.
Of course, no one should be surprised that a living former First Spouse will soon be depicted on a U.S. coin. A number of coinage traditions have gone by the wayside since the unprecedented Statehood quarters debuted in 1999 with five new designs each year. For a long stretch in U.S. history, every coin from the half dime to the dollar had the same obverse design, and during one period that common design didn't change for over 50 years. However, national mints around the world are pulling out all the stops these days, and I'm sure we can look forward to more innovations from the U.S. Mint.
If you have any comments about the decision to include Ronald Reagan in the Presidential series and Nancy Reagan in the First Spouse series, please share your thoughts with other coin enthusiasts!