Celebrating the end of an era…
75th Anniversary of the Final Liberty Walking Half Dollars!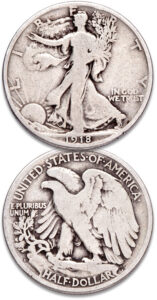 Boasting what's considered to be one of America's most beautiful silver coin designs, the Liberty Walking half dollar was struck during a momentous, eventful period in U.S. history. The series was first introduced in 1916, as the first World War raged in Europe.
Now, it's been 75 years since the final Liberty Walking half dollars rolled off the mint presses. In honor of this diamond anniversary, let's take a look at the history of this handsome series, and the lasting effects it has had on America's coins!
Meet the designer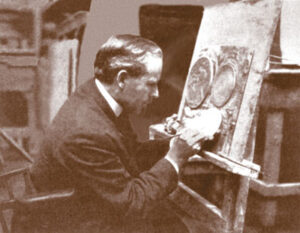 Born in Germany in 1870, Adolph A. Weinman came to the United States at the age of ten. He began an apprenticeship with a wood and ivory carver, and later studied art at Cooper Institute and at the Art Students' League of New York.
Weinman had designed a number of medals and created several monuments, including the Lincoln statue at Hodgenville, Kentucky, and the statue of Alexander Cassett in the Pennsylvania Railroad Terminal in New York City. He was extremely qualified to produce a new coinage design for his adopted country – and so, he was chosen to participate in an upcoming competition.
A promising competition
When the time came to select a new half dollar design, a limited competition was held by the U.S. Mint. The winning designs – chosen from "more than fifty" sketch models – were announced on May 30, 1916. Ultimately, the design created by renowned New York sculptor Adolph A. Weinman was chosen for the new half dollar.
On the obverse, a majestic figure of Liberty strides confidently toward the dawn of a new day. Her right arm is outstretched in a gesture of hope and freedom. In her left arm, she carries oak and laurel branches, ancient symbols of civilian and military affairs. Liberty is cloaked in an American flag, which unfurls behind her. Weinman's beautiful Liberty design was so popular, that it was brought back on American Silver Eagles of 1986-date!
A bold American eagle graces the reverse of the Liberty Walking half dollar. Our national symbol combines peace and strength with determination and power. The eagle stands upon a branch of a mountain pine, a tree that is found in the forests of the American West.
But wait, there's more!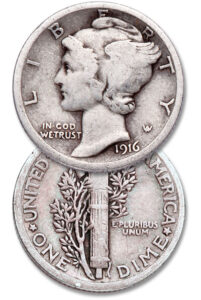 In addition to his half dollar design, Weinman's Mercury dime motif was also selected during the competition. Although the dime showed Liberty wearing a winged cap to symbolize freedom of thought, the image was mistaken for the Roman god Mercury. That coin, issued from 1916 to 1945, has been known as the Mercury dime ever since.
While the Mercury dime was very appealing to the public, it was the Liberty Walking half dollar that captured its heart. The classic design and significant symbolism made it one of the most popular coins ever circulated!
Even after 75 years, this beautiful coin still captivates collectors. Is this your favorite U.S. coin design, or do you prefer another? Let me know in the comments below – I'd love to hear from you!