Keeping your coins safe is as easy as 1-2-3!
You put valuable time, effort and money into your coin collection. So when it comes to keeping it safe, knowing how to best protect it is important! There are many good choices out there, so deciding what's right for you can seem daunting. With that said, let's take a look at what can harm your coins, and how you can best protect your collection from those harmful elements!
1: What can harm my coins?
For starters, any extreme temperature – hot or cold. Do you store your collection in a basement or an attic? Though these might seem like great spots for quick and easy storage, often neither location is adequately ventilated or insulated (at least, not for the purposes of coin storage). Plus, basements are known for being damp, while attics can run very dry – and neither is a good environment for your collection. The best place to store your coins is in a moderately cool, dry place. A good rule of thumb is that if the climate is comfortable for you, it's right for your coins, too.
Keep in mind too, that where you live in the country can make a difference. For example, here in New England, we see a wide temperature swing during the seasons. Summer months can be really hot and humid, while the winter months bring extremely cold temperatures. If you live in more southern parts of the U.S., your temperatures may be more steady, but humidity may still be a concern. Keep your climate in mind when deciding where (and how) you want to store your collection.
Certain elements can also react with (and harm) your coins. PVC (polyvinyl chloride) is something that should be kept far from your collection. A chemical used to make plastic softer and less brittle, PVC was once found in soft plastic coin flips. However, an acidic reaction occurs when coins come in to contact with PVC. Before long, your coins are sporting greenish, grey or milky white streaks – the iconic "green slime" of PVC residue. Over time, this can cause permanent damage to the coin's surface. Luckily, the modern, more rigid mylar flips do not contain damaging PVC.
2: Securing individual coins & collections
How you choose to display and secure your coins depends on what's in your collection and your individual preference. The most popular choices are:
Albums & folders – If you're building a collection of a specific coin series, these coin books are a handsome way to both organize and display your coins. Littleton offers a line of archival-quality 3-ring binder albums – most laid out to fit a complete date and mint mark collection for a series. If you're just getting started, custom coin folders are a good option. They lay flat and generally hold one coin from each year of issue (or each different design) for a series. Both the albums and the folders offered by Littleton are made from archival-quality materials that will keep your coins safe.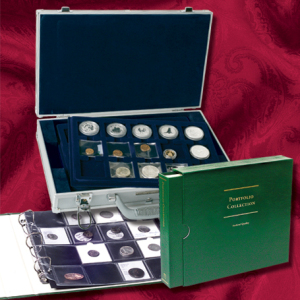 My loose coins are in holders… what's next?
If you've decided to store individual coins in Air-Tite holders or 2×2 holders, you can still organize a collection! Coin cases offer a handsome way to carry and display coins in either type of holder. Personal collection albums also come in a variety of options – and most accommodate coins held in 2×2 holders.
Regardless of how you ultimately decide to store your collection, always remember: the safest way to handle a coin that isn't in a holder, is with the use of soft cotton gloves. They'll protect the coin's surfaces from the naturally-occurring oils in your skin, which can be harmful over time.
3: In-home or off-site storage?
While it's your safest bet, storing your collection in a bank's safe deposit box may not be the most economical choice. Though it may be an added expense, these vaults are specially designed to prevent theft and fire damage. However, be aware of the fact that many use a vapor to control the temperature inside the vault, making for a more humid environment. This can be solved by placing silica gel packs in with your collection. Just be sure to replace them a couple of times each year to ensure they're working at their best.
Short of renting a bank deposit box, you can also purchase a home safe for your own personal use. Again, you'll want to pay attention to what your safe is constructed from, and where you locate it. Make use of silica gel packs if moisture is a concern.
Though it takes some thought and planning, it's still worth the time and energy to decide how you'd like to keep your coin collection safe. Do you take any steps to protect your collection that I didn't discuss above? Let me know in the comments below – your ideas may help another collector, too!