Innovators on US Coins: A centuries-old American tradition

Since 1783, US coins have featured great American innovators – and assembling a set of these coins for your collection can be a fascinating and rewarding experience.
The US Innovations dollars series has proven extremely popular with collectors. But did you know these are just the latest US coins to honor our nation's innovators and their accomplishments?
It's true. The US Mint has been honoring innovators on coinage for over two centuries – on both circulating and commemorative coins.
Assembling a complete set of these coins may take some time, and some issues may be difficult to obtain. But even a partial collection can be a fascinating and rewarding experience for the entire family – especially for those of us who with school-age children or grandchildren.
So let's take a look at some of the great American innovators featured on US coins, and the ways you can collect them.
George Washington: First US President and American Innovator
George Washington is best remembered as the first US president and commander in chief of Colonial forces during the American Revolution. However, he was also one of the nation's first famous innovators – and the first whose image appeared on US coins.
As a businessman and farmer, Washington pioneered crop rotation and championed new methods of transportation – including steam-powered vessels that revolutionized American industry and travel. And his peaceful transition of power to John Adams after two terms as president not only shocked the world. It established an American tradition that changed global politics forever.
In light of this, it's only fitting Washington was the first American innovator whose image appeared on US coins. And unsurprisingly, it has done so on many occasions.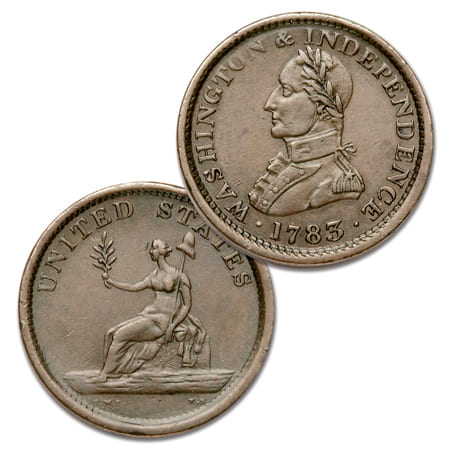 George Washington has appeared on US Coins as early as 1783
The Washington quarter has been struck every year since 1932, including traditional (1932-1998), Statehood (1999-2008), DC & US Territories (2009) and America's National Parks (2010-2021) quarters.
However, George Washington's portrait first graced American coinage much earlier – as early as post-colonial issues dated 1783. He also appeared on the 1900 Lafayette dollar alongside the marquis de Lafayette. Only 36,026 of these classic commemoratives were struck, however, and acquiring one for your collection can be difficult.
Somewhat easier is the 1926 Sesquicentennial commemorative half dollar. This coin bears profiles of Presidents George Washington and Calvin Coolidge. Over 1 million were struck, but just 141,120 were distributed and the rest melted down.
In 1982, the first modern commemorative celebrated Washington's 250th birthday. And in 1999, a limited-mintage gold $5 coin was struck commemorating the bicentennial of his death.
Of course, George Washington isn't alone.
Jefferson and Lincoln were American innovators, too…
Our nation's third president, Thomas Jefferson, was also one of the first great American innovators. And not just for being the primary author of the Declaration of Independence and securing the Louisiana Purchase, which doubled the size of the nation.
Jefferson received acclaim for his redesign of the traditional plow. And his Monticello home included a 1,000-ft. terraced experimental garden, as well as automatic doors and dumbwaiters of his own design.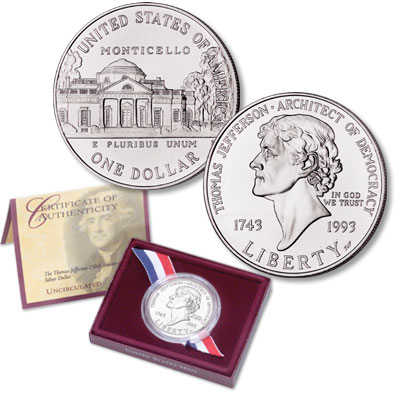 The 1993 Thomas Jefferson commemorative silver dollar was actually struck in 1994
Additionally, Jefferson is credited with numerous inventions and innovations. Which included:
a portable copy machine
a clock powered by cannonballs
a revolving chair with leg rest and writing arm
a rotating bookstand with adjustable shelves
… and a folding lap desk with locking storage compartment – upon which he penned the Declaration of Independence.
When it comes to US coins, Thomas Jefferson's image has graced the five-cent piece since 1938, as well as the 2007 Thomas Jefferson Presidential dollar. In addition to circulating US coins, the US Mint also honored Jefferson on a 1993 commemorative silver dollar.
Meanwhile, Abraham Lincoln changed the course of American history with his Emancipation Proclamation…
But this isn't the only way in which our 16th president was an innovator. Lincoln was known to study mechanical devices and point out ways to improve them. And to this day, he remains the only American president to receive a US patent (#6469), which he obtained for a means of floating vessels over shoals without running aground.
Lincoln was a champion of innovative technology. He was an early supporter of the railroad industry. And in the late 1850s, he gave a series of lectures on various inventions and innovations, including a steam-powered plow.
During the Civil War, Lincoln worked to ensure Union forces had every advantage technology could give them. When hot air balloons were considered for aerial reconnaissance, he observed a test outside the Smithsonian. He also personally tested new weapons outside the White House, including an early, hand-cranked machine gun.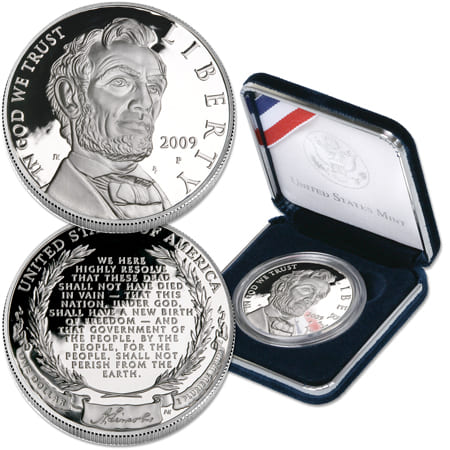 2009 Abraham Lincoln Bicentennial silver dollar
But Lincoln's most technological innovation was in his use of the telegraph.
Quick to see the device's potential, Lincoln soon had the White House connected. He became the first leader of a nation with real-time communication at his disposal. He used it to receive updates from his generals and direct the war effort. And for public relations – communicating directly with the press and the American people.
The mint has honored Abraham Lincoln on a number of US coins, most notably the Lincoln cent of 1909-date. Four different cents were issued in 2009 to celebrate the bicentennial of his birth. However, these are just the tip of the iceberg.
Lincoln also appears on both the Illinois and South Dakota Statehood quarters, the 2010 Abraham Lincoln Presidential dollar, and no less than five commemorative issues: the 1918 Illinois Centennial silver half dollar; the 1991 half dollar, silver dollar, and gold $5 coins commemorating Mount Rushmore's Golden Anniversary; and the 2009 Abraham Lincoln Bicentennial silver dollar.
American Innovators who were not presidents
US presidents aren't the only American innovators featured on US coins. The Franklin half dollar (1948-1963) honors founding father, inventor and innovator Benjamin Franklin. As do two different commemorative silver dollars, both minted in 2006.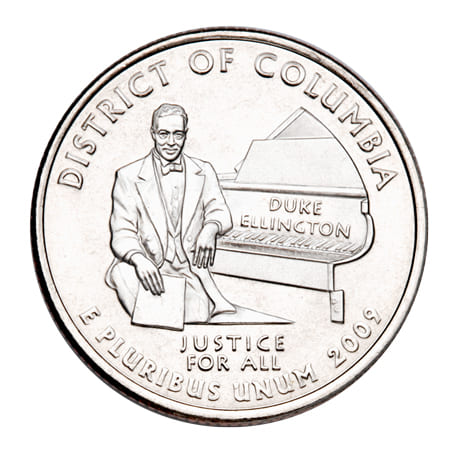 2009 District of Columbia quarter featuring Duke Ellington
America's most famous inventor, Thomas Edison, appears on two US coins. First, a commemorative silver dollar issued in 2004. And, more recently, on the 2019 New Jersey US Innovation dollar.
Meanwhile, aviation pioneers Orville and Wilber Wright are honored on the 2001 North Carolina Statehood quarter and three 2003 First Flight Centennial commemorative issues.
From 1941-1956, the US Mint struck silver dollars honoring former slave turned educational innovator Booker T. Washington. Loius Braille, creator of the Braille system that allows blind people to read, was honored on a commemorative silver dollar in 2009. And the 2009 District of Columbia quarter features musical innovator Duke Ellington (right).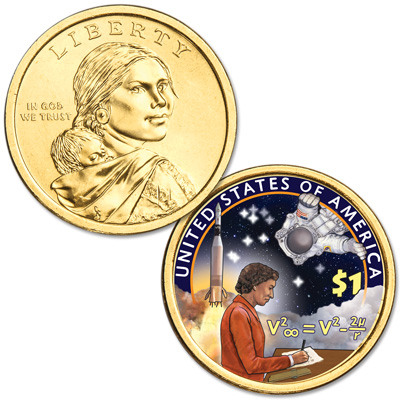 The 2017 Native American dollar depicts NASA engineer Mary Golda Ross and astronaut John Herrington
Our indigenous innovators have also been recognized on US coins. Native American dollars have depicted Sequoyah, who created the Cherokee syllabary, and NASA pioneers Mary Golda Ross and John Herrington. As well as Elizabeth Peratrovich, who helped ensure the passage of Alaska's 1945 anti-discrimination law.
All these are just a few examples of US coins featuring American innovators. And, of course, they're in addition to the new US Innovation dollars.
This latest series of "golden dollars" began in 2018 with a single issue showing George Washington's signature as it appeared on the first US patent. Following that, four new coins are being issued per year – each honoring an innovator or innovation from one of the 50 states, the District of Columbia and the 5 US territories.
The series is a superb way to discover the individuals and innovations that helped build this great nation and improve the lives of millions around the world. Especially when paired with other US coins honoring great American innovators, like those mentioned above.
And if you want to take your collection even further, be sure to check out Ghana's Titans of American Innovation series. These titanium coins feature Albert Einstein, Nikola Tesla, Alexander Graham Bell and more.
Who is your favorite American innovator?
Do you have a favorite coin featuring an American innovator or innovation? Or perhaps one whom you'd love to see honored in numismatic tribute?
Let us know in the comments below!