See America's incredible scenery in an all-new, exciting way!
It's no secret that America is home to some of the world's most breathtaking landscapes. Because of the sheer size of the United States (more than 2.4 billion acres, including Alaska and Hawaii), and its wide range in latitude, the differences in the land are as varied as they are amazing! From lakes to oceans, vast canyons to sweeping valleys, mountains, deserts, prairies and more… each of our 50 states is a unique wonder.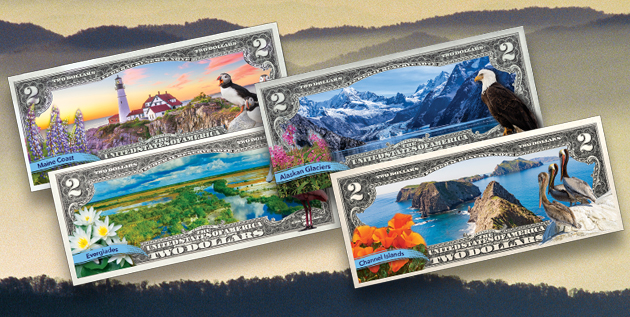 We here at Littleton Coin know it can be difficult to travel the nation seeing every spot you'd like. That's why we introduced our first-ever Great American Landscapes series! These exciting $2 notes bring our nation's beauty to you in a whole new way. The faces of nine $2 Federal Reserve Notes have been colorized by our artists to display stunning, full-color images of distinctive American vistas.
A glimpse at nature's beauty
The design on each note is brilliantly executed, transporting the viewer to a lush and vibrant scene. To enhance the designs, each note also features both a flower and a bird that are indigenous to the featured area. Here's a sneak peek at some of the fantastic designs in the Great American Landscapes series:
Plus, to organize and handsomely display this incredible collection, Littleton Coin has also created a beautifully-illustrated and informative folder.
Keep a set for yourself, too!
If you're looking to inspire your next great adventure, Littleton Coins' Great American Landscapes series notes are sure to fuel a serious case of wanderlust. Plus, with the holidays right around the corner, this 9-note set makes a truly eye-catching and memorable gift idea.
What are your favorite landscapes from your state? Is there a spot you would enjoy seeing through the lens of a $2 note?