This year, try a unique new gift idea for your favorite boss!
There are plenty of jokes out there about the hard-nose, high-expectation bosses of the world. Yet the vast majority are actually proud supporters deserving of a day of celebration!
Enter Boss's Day. Held each year on October 16 (or the closest weekday, if the 16th falls on a weekend), this holiday dates back to 1958 – when Patricia Bays Haroski filed with the U.S. Chamber of Commerce. At the time, Patricia worked for State Farm Insurance under her father, and chose his birthday as a day to celebrate his leadership!

How to express your thanks
This holiday should never feel like an obligation. However, for those who wish to show their appreciation for a particularly kind and fair leader, it can be tricky to find something new and different. Apart from the standard flowers and baked goodies, how are you – the employee – supposed to find something that's "just right?"
Sure, there's always the possibility of replacing a much-needed office item, like a well-worn briefcase. Or, you could gift something personalized specifically for them, like a business card holder.
Is your boss also a collector?
If you know that the boss enjoys coin collecting, though – a whole new realm of gift-giving possibilities open up to you!
While any collector is sure to appreciate that missing hole in their coin collection being filled, choosing this route can be a tricky prospect. It's not easy to select the perfect piece unless you're in tune with someone's coin collecting goals!
Honor a milestone or find a unique gift idea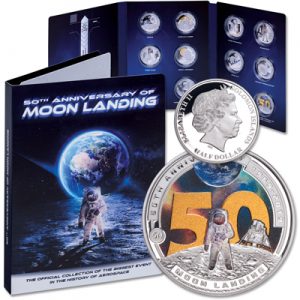 Luckily, there are plenty of options closely related to coin collecting that are also fun. This year marks the 50th anniversary of the Apollo 11 moon landing, and has been a hot topic in the media. If you've heard the boss mention "where I was when…" more than once, one of our moon landing collectibles are fantastic gifts of nostalgia! If you're not sure what you're looking for, you can always browse our collector's favorite gift ideas for some inspiration.
A good rule of thumb for Boss's Day is that it's never intended to break the bank! But this year, if you're heading up the office pool and need some fresh gift ideas, a coin collecting related piece might make the perfect group surprise.