How to Be a Gift Genie!
Last updated: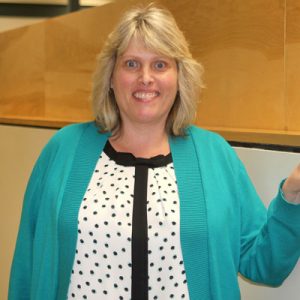 Littleton Coin Company elves have been busy stocking our shelves with all kinds of gift ideas to help you find something for everyone of any age! Thanks to a recent sit-down with sales and service manager Yvonne Burlock, we've come up with some coin and currency-related suggestions to help make gift shopping easier for you.
Gifts to encourage young collectors
"We hear a lot of stories from our customers who got started collecting thanks to a grandparent," Burlock said. "I'm thrilled we have ideas to help today's grandparents inspire the next generation."
For collectors-in-training who are as young as six, Littleton Coin has a handy, six-panel folder that comes with a cut-out for easy carrying and a free, Uncirculated "starter" quarter from the National Park series. It's called My Quarter Collection and can hold all 112 quarters from that series or the Statehood, District of Columbia and five United States territories series.

As children learn more geography in the 3rd and 4th grades, Littleton Coin's three colorful and fact-filled folders with maps and slots for quarters make great educational gifts. Suitable for ages eight and up are our two separate folders for circulating quarters that show the National Parks and the Statehood, D.C. and five U.S. territories.
Our third folder is for a quarter series highlighting 50 Native American tribes issued by the Jamul Nation, recognized as a sovereign nation by the U.S. government and legally authorized to issue its own commemorative coins. These quarters are available exclusively in North America from Littleton.
In all three series, each quarter's reverse shows a noteworthy image about our country's natural and cultural history.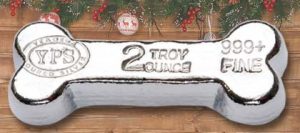 For children interested in animals, we have an informative, 10-coin folder that focuses on American wildlife with beautifully colorized Kennedy half dollars. Designed by our talented creative team, all these folders offer a terrific opportunity to share your excitement with a new generation!
Speaking of animals, here's an idea that would delight a dog lover: hand-poured into a mold by a master craftsman and stamped with the weight and purity, this dog bone is 2 oz. of 99.9% pure silver. Woof!
Gifts of Gold
"Who doesn't like to receive gold instead of coal in their stocking?!" Burlock asked with a twinkle in her eye. Littleton Coin has an attractive assortment of gifts from fun to fabulous that shimmer with this precious metal.

Based on the Series 2009 $100 Federal Reserve Note – and perfect as a stocking stuffer – is a glittering deck of playing cards in precious 24k gold foil and laminated in plastic for easy handling. The 54-card set includes 2 jokers.
If the person on your list is a traditional collector, check out this unusual incuse coin design that's unique to the $5 Indian Head Half Eagle struck from 1908 to 1929. He, or she, will be thrilled to receive this spectacular gold coin with its full original mint luster and all the original design details.
A handy calendar for buying gifts


There are a variety of worldwide winter holidays that make giving the gift of coins or currency easy. Here are just a few:

| | |
| --- | --- |
| St. Lucia Day | December 13th |
| Winter Solstice | December 21st |
| Christmas | December 25th |
| Kwanzaa | December 26th – January 1st |
| New Year's Day | January 1st |
| Three Kings Day | January 6th |
When it comes to gold coins she can wear, these hummingbird earrings crafted from reproductions of Trinidad & Tobago's one-cent coin are simply lovely. Each hand-cut piece highlights a hummingbird sipping nectar from a flower. The symbol of love and joy, the hummingbird is plated in precious 14k gold and rhodium. Each earring is encased in a bezel and suspended from a gold-filled French hook. Best of all, the earrings come ready to give in a special gift box!
Gift for Him
While it's not gold, we couldn't offer jewelry just for her without suggesting a rugged new way for him to tell time. It's with this handsome Kennedy Half Dollar watch that celebrates the Moon Landing Anniversary coming up in 2019. Our artists have colorized the Kennedy Half Dollar to feature the earthrise from the moon's surface. It also shows July 20, 1969 when Neil Armstrong and Buzz Aldrin became the first men to set foot on the moon. Made with Swiss quartz movement, this Moon Landing Anniversary watch comes with a leather band and hand-numbered serial card.
Gifts with meaning
"We know the end of the year can be a time of reflection for many," Burlock said, "so this year we've expanded our choices of thoughtful gifts."
Inspired by famous works of art, Littleton artists colorized five Eisenhower dollars with beloved scenes from the King James Bible: Adam and Eve in the garden, the loading of Noah's ark, Daniel in the lions' den, the birth of Jesus and Christ's Ascension. Special domed technology offers exceptionally detailed, uninterrupted designs. The set includes a story card for the five scenes. A handsome presentation box with silver and gold foil details contributions to making this a gift for all ages.

For those who are devout, we have the 23rd Psalm struck on a magnificent 4-ounce bar of 99.9% pure silver and in Prooflike condition. It's presented in a black velvet display case that includes a certificate of authenticity.
The High-relief Battlefield Cross salutes our nation's brave warriors and makes for an ideal gift of remembrance. This special round is minted in 2 troy ounces of 99.9% fine silver. Patriots, military families, veterans, and those who collect rounds for their beautiful designs will appreciate this present.
Here's an additional suggestion if you have family and friends who assemble military or aviation memorabilia – four brightly colored fantasy notes, each depicting soldiers and a different U.S. fighter jet. Made from durable polymer, these Crisp Uncirculated fantasy notes are issued for collectors only and are quite affordable. Each back features the specifications, respectively, for the F-22 Raptor, F-14B Tomcat, F/A-18 Hornet, and F35 Lightning II.
For the person who has everything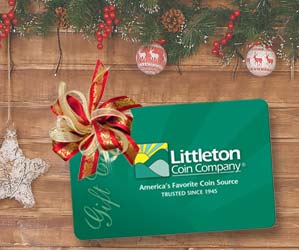 Last, but never least, is finding the perfect present for the person who has everything. Look no further than our own Littleton Coin Company gift card! Whether it's old-time silver dollars, recently minted U.S. or world coins, paper money, or collecting supplies, Littleton has something for everyone. Our gift card can be redeemed by phone or by mail, and it never expires. It comes inside a handsome presentation card and with the latest edition of our fully illustrated catalog. You can purchase our gift cards in $50 to $100 increments.
This article was written by Helen P.
An adventurous time-traveler, Helen P. is an author of numerous regional history books.