The End is Near for the Medieval-Themed, wildly popular Game of Thrones
Discover how to expand your collection while recalling the series!
Here in the northeast, it's been a long winter – one we're happy to see go! But as thrilled as we are to welcome the warmer weather of spring, a good portion of the population is still excited to say that "Winter is Here…" Of course, referencing a popular theme from the hit television series Game of Thrones.

Marking the beginning of the end
The eighth and final season of this groundbreaking show just kicked off Sunday night. In anticipation of the series' end, fans of the show are snapping up merchandise faster than the Night King is adding to his army of White Walkers. For those of us who enjoy collecting, there's a fun and different way to pay tribute to the show – through coins!
Through it all, there's been talk of fire and ice… strategies to decide who will sit upon the Iron Throne… and mentions of paying the 'iron price' (which is a rather decisive way of avoiding payment in coin). One thing I've wondered about too, is – what do these folks use to make their payments to the Iron Bank of Braavos and keep the Seven Kingdoms running? After all, money makes the world go 'round – even in a fantasy world like this.
While we don't have access to the coins used in King's Landing or Riverrun, it's easy to imagine the themes of coins issued in this world fitting in with another.
The Starks and their direwolves
Early in the series, six direwolf pups were discovered near their recently-deceased mother in the Wolfswood. One wolf was given to each child of Eddard Stark, and the pups that have survived various hardships proved to be loyal protectors and companions for their keepers. It's a motif that's echoed on a bronze coin of Constantine the Great. Issued from A.D. 330-335, the reverse of this Follis shows a she-wolf with twins, recalling the tale of Rome's founding.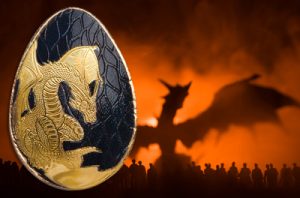 How about something to celebrate Daenerys Targaryen? This powerful character has – quite literally – risen from the ashes with her three dragon-children on a quest to claim the Iron Throne. It's no surprise that dragons have been a wildly popular theme on coins from around the world recently! These beasts are handsomely shown on a fierce 99.99% pure gold $1 coin of Palau. It's even shaped like an egg, recalling their origins on the show! For those who enjoy collecting dragon coins, but would like a more affordable depiction of the mythological creature, there's the 1 oz. Nordic Dragon round struck in 99.9% silver.
Better yet – elevate your collecting prowess and make a bold statement, with this outstanding sterling silver statue struck in a whopping 8 oz. of precious metal!
Honoring those sworn to protect
For all the dastardly leaders in Game of Thrones, there are those who mean well – and those who serve nobly. One in particular stands out in her pursuit of honor – Brienne of Tarth. Her rigorous training has served her well, and her moral code is reflected in her strict loyalty to each liege she serves. This 2 oz., 99.99% pure silver Destiny Knight round might well have been styled after Brienne herself!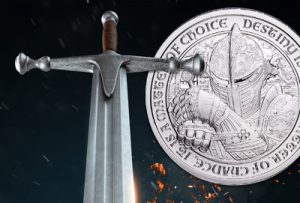 Finally, let's not forget where this all started – with the warning that "winter is coming." In this final season, the warning is more dire than ever before. Do you have any thoughts or predictions on what's to come in Westeros over the next few weeks? I'd love to hear your thoughts – send me a note in the comments section below!