Coin collecting has grown dramatically during Littleton's 75 years in business
When Littleton Coin Company was founded 75 years ago in 1945 by Maynard and Fannie Sundman, coin collecting was still in its infancy compared to today.
Oh, there had long been a small number of collectors, with means, who owned rare coins. They kept them in fancy wooden "coin cabinets." And during the 1930s, economical coin boards and folders made date and mint mark collecting easy and practical for more people. But in 1945, coin collecting was a relatively new hobby. Especially compared to stamp collecting, which had been extremely popular since the 1800s.
Sensing a big future for coin collecting
The Sundmans' mail-order business in Littleton actually began as a stamp company. But before long, Maynard was intrigued with coins and bank notes. And he "sensed" a big future for coin and paper money collecting. So Littleton began offering coins and bank notes the same way it offered stamps. They sent monthly assortments "on approval" – from which collectors could choose the items they wanted and return the rest.
Maynard and Fannie found an increasing interest in coins and paper money across the country. And numismatic collectibles became a fast-growing part of the business. But it took several key events and innovations over the past 75 years for coin collecting, and Littleton Coin Company, to be what they are today…
Error coin fever sweeps the nation!
In 1955, some flawed Lincoln cents were discovered by sharp-eyed collectors. The 1955 date, and the inscriptions liberty and in god we trust, had a "double" image. A die, which strikes the design on coin blanks, requires multiple blows from a hub to bear the full design. In this case, the die and hub became misaligned between blows.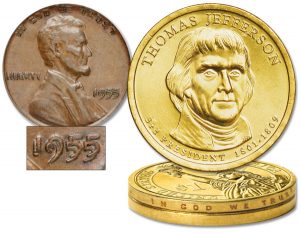 These 1955 "Doubled Die" cents created a sensation. People everywhere searched their change and rolls from the bank for the prized errors (the finest known example sold at auction on March 1, 2020 for $124,875.00). When Doubled Die cents escaped the mint again in 1972 and 1983, collectors found them quickly! And when some first-year 2007 Presidential dollars were completely missing historic edge inscriptions, error coin fever swept the country again!
Circulating silver coinage comes to an end
Until the 1960s, circulating dimes, quarters and half dollars were struck in 90% or near 90% silver. But when the cost of silver rose dramatically in the early Sixties, 90% silver circulating coinage came to an end. Dimes and quarters were struck in copper-nickel beginning in 1965. The silver in half dollars was reduced to 40% in 1965 and eliminated altogether in 1971.
This brought hoarding of all pre-1965 silver coinage. While rarer dates had always been desirable, now every 90% silver dime, quarter and half dollar was a precious find. And complete silver sets quickly climbed in value.
Hobby supplies create new ways to collect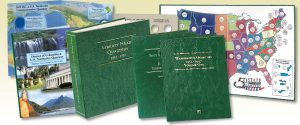 Coin-collecting supplies and accessories have made great strides since the coin boards and folders of the 1930s. Littleton offers its own line of archival-quality albums and economical folders for nearly every collectible series. They provide spaces for each date and mint mark in the series.
But holders, folders and display cases now suit a variety of collecting techniques. Some are for year sets containing one coin from each year of issue. Others are for one coin of each denomination issued in a certain year. Type set holders may house one coin of each penny design, nickel design or dime design. Or they may hold one coin of each type from a certain era or century. There are many rewarding ways to assemble and display a coin collection today!
Internet provides valuable collecting information
Decades ago, collectors had to assemble a bookshelf of numismatic reference books. But thanks to the internet, a vast amount of numismatic and historical information about coins is now readily available. With just a few clicks, you can find out the mintage, survival estimates, design details and subjects, varieties, composition and desirability of any U.S. and world coin or bank note. As well as any ancient issue.
Certification services provide collector confidence
The values of scarcer and older coins have risen greatly as the number of collectors increases. Certification services, providing third-party grading, have given collectors much greater confidence when purchasing coins. Each coin authenticated and graded by a certification service is sealed in an exclusive holder and displays the assigned grade.
Statehood quarters give collecting a big boost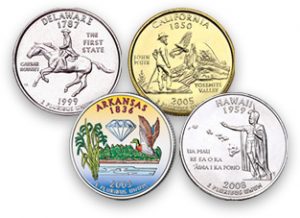 Millions of new coin collectors were created when the U.S. Mint introduced the Statehood quarters in 1999. Featuring five new reverse designs each year until 2008, the series honored the unique traits and attractions of each state. The Statehood quarters kicked off an exciting new era of U.S. coinage innovation.
The U.S. Mint gained impetus from mints around the world – who have spared no resources in coinage technology. And in addition to historic U.S. coins and paper money, Littleton is pleased to offer a wide selection of these world issues that seem to break new ground each day. With so much to choose from, there has never been a better time to be a coin and currency collector!