From Crusader to Coin: A Catalyst of Change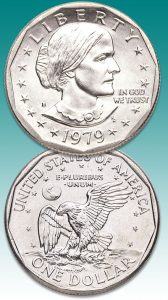 What a year for history. If you can indulge us a tiny numismatic pun, 2020 is a "dual-date" year! It's the 100th anniversary of passage of the 19th Amendment that gave women the right to vote. And, it's the 200th birthday of Susan B. Anthony, who made it her life's mission to secure that civic entitlement.
"Remarkable Women: Catalysts of Change" is the American Numismatic Association's banner for celebrating National Coin Week April 19-25, 2020. Let's meet the tireless civil rights crusader who became the first historical female to land on the head of a U.S. circulating coin.
Over 40 years ago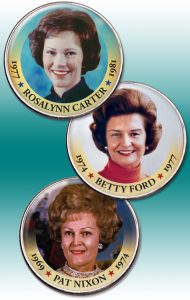 The 1970s was a heady decade. The National Organization of Women re-ignited the call for passage of the Equal Rights Amendment. Such First Spouses as Pat Nixon, Betty Ford, and Rosalynn Carter publicly supported legislation that would guarantee equal legal rights for all American citizens regardless of sex.
Against that backdrop, the U.S. Mint was evaluating a smaller and lower-cost successor to the hefty Eisenhower dollar. The initial design in 1976 featured a return to the allegorical Liberty. Complete with a Phrygian "freedom" cap, it was a motif first seen on U.S. coins in the late 18th century on the 1793 half cent.
But 20th century women's rights groups intervened: Instead of a mythological woman, why not have a remarkable woman from history on a coin?
It took two years more of discussion. Then, in 1978, a new design got the green light from Congress. The head, or obverse, would show a portrait of the social justice crusader who also campaigned to end slavery, in support of temperance, and for equal pay for equal work. The tail would retain the Ike dollar reverse honoring the first moon landing.
Born 200 years ago in 1820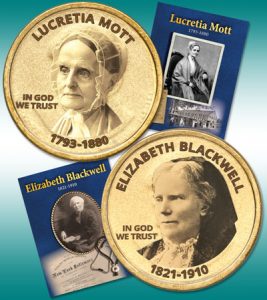 Publicly celebrating Susan's birthday began when she turned 50 in 1870 and found herself profiled in the book Eminent Women of the Age. Her life's achievements shared pages with that of fellow Quaker, abolitionist and suffragist Lucretia Mott; voting rights advocate Lucy Stone; author of Uncle Tom's Cabin Harriet Beecher Stowe; and Dr. Elizabeth Blackwell, the first woman in America to earn a medical degree.
"Fiftieth birthday! One half-century done, one score of it hard labor for bettering humanity – temperance – emancipation – enfranchisement – oh, such a struggle!" she wrote in her diary, referencing the milestone, but little about the reception that took place in New York City.
At her 80th, Susan's marble bust, part of a statue that included suffragists Lucretia Mott and Elizabeth Cady Stanton, was celebrated at the Corcoran Art Gallery in Washington, D.C. (currently, it can be seen in the Capitol's Rotunda). In public remarks at the reception, Coralie Franklin Cook, founder of the National Association of Colored Women, said of Miss Anthony, "Our children and our children's children, will be taught to honor her memory, for they shall be told that she has been always in the vanguard of the immortal few who have stood for the great principle of human rights."
Ratified 100 years ago in 1920
Susan's last public birthday took place when she turned 86. By this point, she had retired as National American Women's Suffrage Association president. But, expecting eventual passage of the amendment that would give women the right to vote, she said, "There have been others just as true and devoted to the cause – I wish I could name every one – but with such women consecrating their lives, failure is impossible."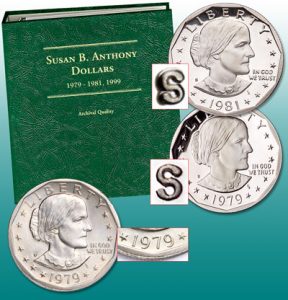 It took 14 more years of dedicated lobbying before the 19th Amendment was made law in 1920. Then it was 59 years before the federal mints would strike coins bearing her likeness. Several more years passed before the small dollar coin earned the affectionate collectible nickname of Susie B's.
It's also a coin with a hard-to-find status. It had a short run of only 1979-1981, and for one year more in 1999. The circulating Susie B's wound up in stamp and transit system machines designed expressly to take the small dollar coin. Uncirculated, Mint State Anthony dollars and Proofs present a challenge in filling out a Susan B. Anthony Dollar Album. But the most sought-after allure of Susie B's lies with these three varieties. They are sure to be a hit with a collector, whether given as a birthday gift or as a gesture to remember the historical ties to 2020.