After more than 30 years, change is coming for the popular Silver American Eagle
In the 1980s, the world was expanding into the silver bullion market. Mexico's 1 oz. Libertad was the first to debut in 1984. Though they displayed the 1982 date, the coins had been held for two years due to the nation's economic conditions at the time.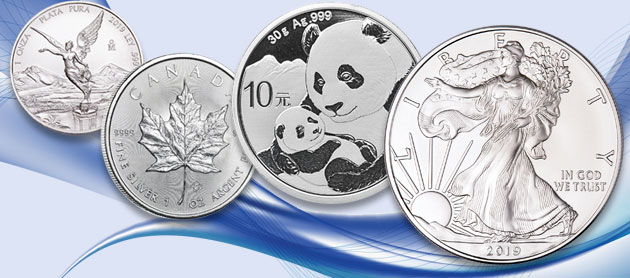 Once the popularity of these silver coins came to light, other world mints began taking note! Soon, more and more countries were issuing their own versions. These included the Canada Maple Leaf, the China Panda and, of course, the Silver American Eagle.
An American classic in 99.9% silver
When it came time to design their new silver bullion coin, the U.S. Mint turned to one of the most popular designs in its history – the Walking Liberty design used on half dollars from 1916-1947. Designed by noted sculptor Adolph A. Weinman, the obverse of this half dollar featured a majestic figure of Liberty striding peacefully and confidently toward the rising sun in the East. Her right arm is outstretched in a gesture of hope and freedom. In her left arm she carries oak and laurel branches, and she is cloaked in an American flag that unfurls behind her.
Designing the reverse of the Silver American Eagle went to U.S. Mint sculptor-engraver John M. Mercanti. For his design, Mercanti chose a stylized Heraldic Eagle, with a ribbon bearing the motto e pluribus unum clutched in its beak.
Change is on the horizon
Now, 35 years after the Silver American Eagle first debuted, anticipation is building for the unveiling of a new design. In October 2019, the U.S. Mint announced that a new reverse design is coming to these popular silver issues in 2021.
The change is being made not just for aesthetic reasons, but practical ones as well. In this day of enhanced security concerns, the new Silver American Eagle reverse design is scheduled to incorporate state-of-the-art anti-counterfeiting technology.
These new coins won't debut for another year, so collectors could still be waiting a few months before a preliminary design is available.
What anti-counterfeiting tools are out there?
Since this is an unprecedented move for the U.S. Mint, it's hard to say what will be implemented on the Silver American Eagles to help protect against counterfeiting. Our neighbors to the north at the Royal Canadian Mint have employed several innovative techniques. They've incorporated radial lines in the fields, privy marks, micro engraving, and their Bullion DNA™ technology.
Are you excited for a new design? What are you hoping to see (technology-wise, or design-wise) on the new Silver American Eagle reverse?