Celebrate that special woman in your life… Mom!
Provider, protector, confidant – not to mention chef, housekeeper, referee, chauffeur, and so much more! Moms wear a multitude of hats, and (most of the time) do it all with style and grace. That's why each year, on the second Sunday in May, we honor these hardworking women with Mother's Day.
For more than a century, this day has been set aside as an official holiday. Over time, it's morphed from a simple day of acknowledgement to more of a celebration! But how do you find a gift that shows your gratitude and appreciation, without breaking the bank?
Put a refreshing new spin on gift giving
It's not always easy to find the perfect gift to express your gratitude for all she does. Of course there are the staples, like delivering a fresh bouquet of flowers or making her a nice breakfast (just don't forget to clean the dishes, too – Mom will notice that most of all!).
But what if you'd like to give something more permanent, more lasting, to let Mom know you're always thinking of her? Luckily for the coin collector in her life, there are quite a few gift ideas available – one of which is sure to touch her heart.
A token to represent your love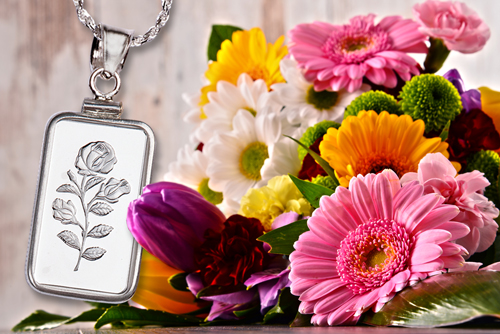 99.9% silver bar necklace shows a lovely rose!
Jewelry is always appreciated. Continuing with the heart-shaped gifts theme is a sterling silver pendant featuring a cast image of the Liberty Walking half dollar reverse design (the other side is smooth)! Plus, this silver Guardian Angel Necklace is a great tribute to the woman who is always looking out for you. It'll also be a lovely reminder that someone is watching over her, too!
If your Mom enjoys flowers, she'll love this silver bar necklace. It displays a stem of roses – a centuries-old symbol of love – in 99.9% fine silver! For a unique new way to give colorful blooms that are always fresh, look no further than this $2 Federal Reserve Note. It has been exclusively colorized by Littleton's artists to display a lovely bouquet of popular wildflowers. Plus, it comes presented in an illustrated holder with a certificate of authenticity, so Mom can display it all year long.
Do you have any special Mother's Day traditions? If you were to give Mom a coin-related gift, what would it be and why?