Legendary Carson City Mint celebrates its 125th anniversary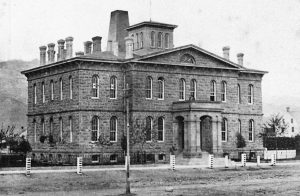 America's short-lived frontier mint in Carson City, Nevada last issued U.S. coins 125 years ago. Striking only silver and gold U.S. coins from 1870-1893, this small but stalwart facility was established to convert silver and gold ore from the fabulous nearby Comstock Lode into U.S. coinage. So the Carson City Mint played an important role in Westward Expansion and became a memorable chapter in Old West history.
North America's greatest silver discovery
In 1859, a couple of prospectors found a glittering layer of gold when separated from a sandy blue-black clay in their rocker box. The clay was tossed aside as waste, until a veteran of the California gold rush became curious about it and sent a sample to an assayer. The "heavy black stuff" proved to be extremely rich in silver!
In fact, the Comstock Lode as it was known, became the richest deposit of silver ever found in North America. It contained substantial amounts of gold as well. Thousands of prospectors flocked to the boomtown of Virginia City. And Nevada was admitted to the Union as the 36th state in 1864.
Establishing the frontier Carson City Mint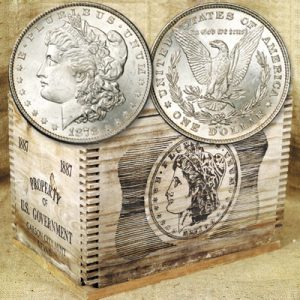 During the 1860s, Comstock Lode silver and gold had to be transported west over the Sierra Nevada Mountains to the San Francisco Mint. Or across the country east to the Philadelphia Mint. Both routes were hazardous, time consuming and prone to robbery by bandits.
So Congress authorized construction of a branch U.S. Mint in Carson City – the Nevada state capital about 15 miles from the Comstock Lode. Featuring 4-foot-thick sandstone walls and a 7-foot-thick concrete basement floor, the fortress-like Carson City Mint converted ore from the Comstock mines into silver and gold U.S. coinage.
"CC" coins struck in limited quantities
Though a handsome, classic structure, the Carson City Mint was small by mint facility standards. So coin production was limited. And mintages of all "CC" silver and gold coins were modest.
Morgan silver dollar mintages ranged from a mere 228,000 for the 1885-CC Morgan to just over 2.3 million for the 1890-CC. (Philadelphia mintages were as high as 44 million, San Francisco over 21 million and New Orleans over 13 million.)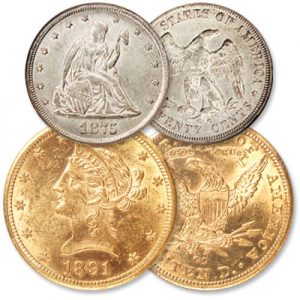 Production of other Carson City coins was also limited. Mintage of the 1875-CC Twenty-Cent Piece was only a little over 133,000 and production of the 1891-CC $10 gold piece was just over 100,000.
Employee theft adds to "Wild West" legacy
In 1893, the Carson City Mint struck its last U.S. coins but continued as a refinery. The following year, officials discovered that the small amount of naturally occurring gold in some silver bars produced at Carson City had been replaced with copper. Then more bars were found with missing gold content. A Treasury Department investigation revealed that several mint employees were skimming off gold bullion during the refining process. So refining operations were halted in 1895. The incident dashed hopes that Carson City would strike U.S. coins again someday.
The facility continued only as a U.S. Assay Office until it was closed in 1933. It was sold to the state of Nevada in 1939 and became part of the Nevada State Museum. But it remained a target for thieves…
Thieves strike again during its museum era
As a museum, its exhibits included a glass case containing some of the most coveted coins struck at the Carson City Mint during its brief 23-year history. The case contained other valuable coins and medals from various mints and countries as well.
On the night of August 4, 1952, thieves got into the museum through the exit area of the model silver mine located in the basement. Then they broke the glass coin display case and made off with its precious contents – worth hundreds of thousands of dollars at 1950s values. They exited the way they came in, slipped into the night and were never caught. And it's unknown what became of their valuable stolen booty!
Treasury hoard of "CC" silver dollars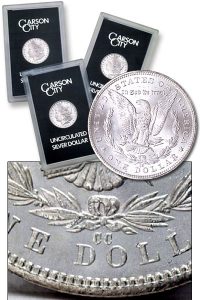 During the fifties and early sixties, a large stash of "CC" Morgan dollars in original mint-sewn bags was found in basement vaults at the U.S. Treasury. The nicest Uncirculated coins were sealed in special holders and dispersed to the public in a series of mail-order sales. Demand for the low-mintage "CC" silver dollars was great. And the government received over 200,000 more orders than they could fill during the final sale in 1980.
Since the Treasury hoard dispersal, many of the coins have been removed from the sale holders. Often for placement in albums or for certification. But those that remain in the Treasury holders are in great demand and often command a premium. (See 1883-CC Morgan dollar in government holder and 1882-1884 "CC" Morgan dollar 3-coin set in government holders).
The Treasury hoard was a great boon to the collecting hobby. Low-mintage "CC" dollars struck in Comstock Lode silver are prized collectibles. And the short-lived Carson City Mint is an enduring legacy of the Old American West!
Do you own or collect any Carson City coins? Why not share your thoughts about these scarce and desirable issues!