"Queen Bess" Coleman Flies Into Coinage History
When astronaut Dr. Mae Jemison flew into space in September 1992 as the first African American woman, she carried with her a photograph of Bessie Coleman. Just 70 years earlier, in September of 1922, her groundbreaking predecessor was the first African American woman to pilot a plane in U.S. history. "Queen Bess" is honored on the first quarter of 2023, and the sixth in the four-year series on trailblazing American women launched last year by the U.S. Mint. Come meet her!
Merci France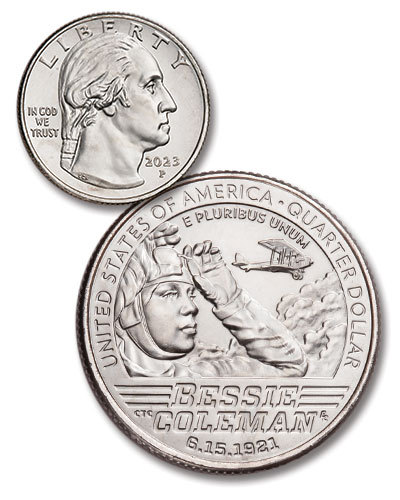 Born the daughter of poor Texas sharecroppers in 1892, Bessie took part in the Great Migration of African Americans moving north in the 20th century for better paying jobs. She landed in Chicago and moved in with a brother who had served in WWI. His stories about accomplished French women who piloted war planes lit a quiet passion within Bessie that would change American history.
Already this was an era when technical advances were altering the course of human events. Bessie was just 11 years old when the Wright Brothers successfully flew their first airplane in North Carolina in 1903. She wouldn't even be 30 when she got her wings.
But first, Bessie had to earn tuition money for flight school. She took a second job. By day, she was a manicurist in a barbershop. At night, she worked in a chili parlor. Once she saved enough money, Bessie applied to flight training schools across the United States. Every one of them turned her down.
In a move that would earn her the nickname of Queen Bess for refusing to take "No" for an answer, she learned French. She then applied to the Caudron Brothers School of Aviation north of Paris, and was admitted. In 1921, Bessie received her international pilot's license – the first American woman to do so, two years ahead of Amelia Earhart. Bessie was 29.
Beyond breaking gender and racial barriers, Bessie's next accomplishment was to learn the daring aerial feats performed by Germany's famed WWI flying aces. Then she returned to the U.S., and staged her first airshow on Labor Day, September 3, 1922. She built a reputation on performing "loop-the-loops" (sometimes called barrel rolls), making figure eights, plus wing walking before parachuting to the ground.
Bessie's Legacy
Coleman used her growing fame to tour the country, giving flight lessons and performing in aerial shows. She made a point of refusing to speak or perform anywhere where her audience was denied admission based on race. At one notable event in her native Texas, Bessie would not perform unless African American ticket holders were allowed to attend. A compromise was reached with separate entrances to the same venue.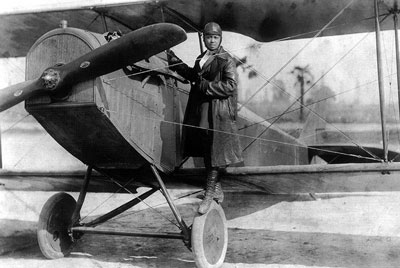 Speaking at schools and churches, Bessie encouraged Black men and women, alike, to take an interest in aviation. She set her sights on opening her own flight training school. Tragically, however, she died on April 30, 1926 as a passenger in a practice flight for a celebration in Jacksonville, FL. But 15 years later, the Tuskegee Institute in Alabama would launch a flight training program to which African American men and women were accepted.
The reverse of the first quarter in 2023 features Bessie Coleman as she suits up in preparation for flight. Her expression reflects her determination to overcoming the cultural barriers that would limit her goal to be a pilot. Inside the rim is the date she received her international pilot's license from the Fédération Aéronautique Internationale headquartered in France.
Are you collecting this new quarter series dedicated to trailblazing American women? Please share your comments in the section below. Thanks!
Sources:
Lauria-Blum, Julia. "Bessie Coleman." Accessed December 2, 2022. https://www.cradleofaviation.org/history/history/women-in-aviation/bessie-coleman.html
The Editors of Encyclopaedia Britannica. "Bessie Coleman: American Aviator." Accessed December 9, 2022. https://www.britannica.com/biography/Bessie-Coleman
Alexander, Kerri Lee Alexander. "Mae Jaemison." Accessed December 16.
https://www.womenshistory.org/education-resources/biographies/mae-jemison