What is toning – and why are some collectors always on the hunt for it?
Toning – a naturally-occurring process that can cause surface coloration on some coins over time – is a "love it or leave it" topic in the coin collecting field. Some people prefer it, while others just don't enjoy the look of toned coins in their collection – and that's absolutely fine! It's up to every individual to collect what they enjoy.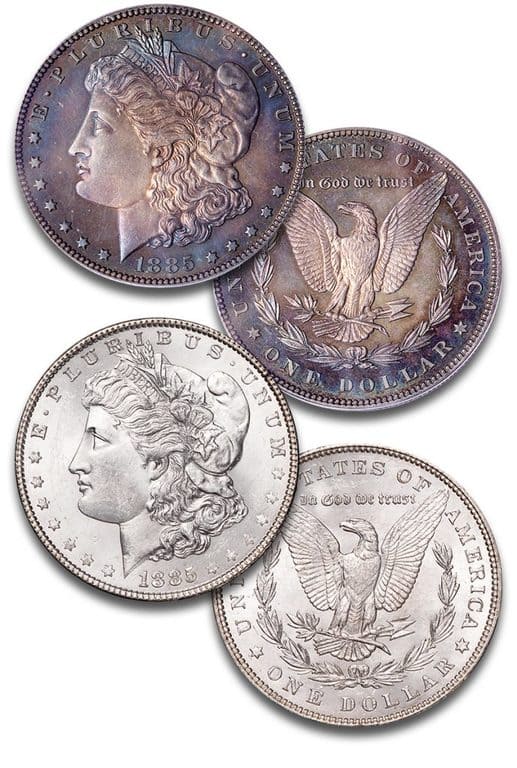 Over time, a coin's natural silver color can shift to a range of beautiful colors – like the blue and purple hues shown above.
But for those who do enjoy hints of eye-catching color – toned coins can really spice up your collection!
What IS toning?
Since all coins contain reactive metals, each one begins to tone as soon as it leaves the press. Over time, these pieces chemically react with substances in their environment. Some forms of coin toning come from the metal's reaction with the oxygen in the air we breathe – called oxidization. One of the more common substances that causes coin toning is sulphur from the materials the coins are stored in (like mint bags, paper rolls and coin envelopes). That results in a range of solid or multi-colored iridescent hues of varying intensity on the coin's surface. Toning can cover the periphery, part of the surface or the entire surface. It can range from light to dark even coloring, or even give a mottled look.
Beauty is in the eye of the beholder
In coin collecting, many people prefer toning because it's one indicator that the coin is still in original condition! Toned coins have been described as "nature's works of art," and in some cases they can, and do, command higher prices depending on the degree and eye appeal. If you're looking for naturally toned coins, one thing to keep in mind is that it's not common for circulated coins to have vibrantly colored toning. That's more often found on Uncirculated coins.
Commonly toned coins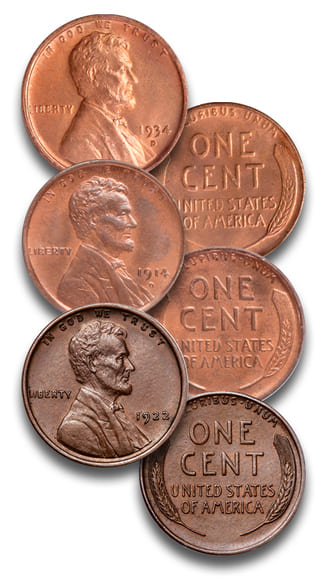 A Lincoln cent's original copper color (top) shifts first to Red-Brown, then to Brown!
Have you ever seen a Lincoln cent labeled as "Red-Brown" or "Brown"? That's a naturally-toned copper coin! When first struck, copper coins are a brighter red in color. Due to the oxidization process, over time copper naturally shifts to a brown color. Though colorful rainbow toning is far less likely to happen on a copper coin, it's not unheard of!
Some of the most sought-after toned coins are classic, large-size 90% silver coins like the Morgan dollars. Due to their silver content, these pieces can take on a wide range of toning colors. From muted grey, yellow and brown tones to shimmering, iridescent hues of blue and purple, these coins can adopt a range of colors. The brighter colors in particular help add to eye appeal, which is crucially important in coin collecting.
Do you enjoy collecting toned coins? Why or why not? If you do – what is your favorite piece?