'Who's on first' Collecting Baseball Coins?
Hit a home run with these coins!
Baseball's Opening Day is next week. It's the earliest opener ever! So, we thought we'd share Littleton Coin Company's enthusiasm with America's most popular pastime by checking in with Mike Morelli, our chief operating officer who's been a Red Sox fan nearly his entire life and a coin collector almost as long.
"For all of us fans, it was such a thrill when the mint brought out its first baseball coin," Mike remembered. "It gave us a new way to participate in the game."
Mike is talking about the day baseball finally became an Olympic medal sport in 1992. The U.S. Mint honored that milestone by issuing a silver dollar whose obverse featured a pitcher about to throw the ball to home plate.
The design generated some controversy, though. Baseball fans saw similarities with a 1991 baseball card photo showing a comparable stance by Nolan Ryan, the fireball pitcher for the Texas Rangers.
But in a 1992 interview with Coin World, artist John Deecken of Bridgeport, CT said the final result was a composite. "I looked at a number of pitchers, including Ryan, Whitey Ford and other people and arrived at what you see on the coin."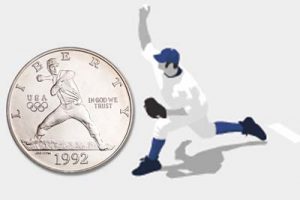 You can see for yourself here. Collectors especially appreciated the unique feature on the coin's edge. The words "XXV OLYMPIAD" show letters more closely spaced than usual. To make them readable, they were impressed four times into the reeding.
The design that's 'next at bat'
A few years later the mint put baseball's three most iconic players on a half-dollar commemorative for the 100th anniversary of the modern Olympics 1896-1996: a batter, a catcher and an umpire. Fewer than 283,000 Proof and Uncirculated coins combined were issued by the prestigious San Francisco Mint, using a design for the obverse by Edgar Z. Steever of Philadelphia. Most are now in private collections, but Littleton Coin Company has some still available.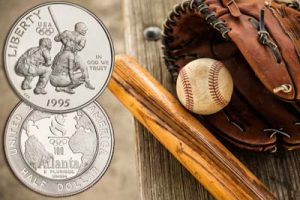 "They do make for a great gift," Mike said, admitting he had purchased one as a birthday present for his grandson who shares his passion for the Red Sox. "You know, here's the thing: It's great to see sports on coins, in general, because it gives people another way to enjoy their favorite pastimes with others."
Looking back through history, few decades produced as many history-changing events as the 1940s. Consider this: Baseball executives Phil Wrigley and Paul Harper, with the support of the legendary Branch Rickey, launched the All-American Girls Professional Baseball League in 1943.
Why? To fill a void for audiences as men went off to fight in World War II. This all-female league was nearly forgotten until it got a 1992 Hollywood treatment with a star-studded cast that included Geena Davis, Madonna, Rosie O'Donnell and Tom Hanks in "A League of Their Own."
In 1944, comedians Bud Abbott and Lou Costello performed their burlesque-perfected routine – "Who's on first?" – for the otherwise forgettable movie "The Naughty Nineties." Who had teachers who used that comedy bit about a baseball diamond's bases to explain pronouns?
'Curved coin' warming up in the bullpen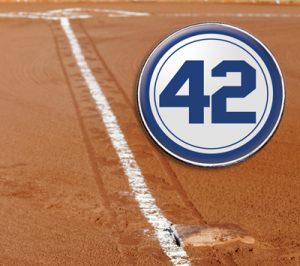 But the most important historical event occurred in 1947. Managing the Brooklyn Dodgers, Branch Rickey broke the color barrier by hiring major league baseball's first African American, the athletically gifted Jackie Robinson. On the 50th anniversary of that bold move, the San Francisco Mint struck this handsome commemorative silver dollar Proof in 1997, honoring the player who wore the #42 jersey.
"It was a wonderful tribute to a tremendous athlete," added Mike, who noted that one of the company's historical coin displays that visitors see features a Jackie Robinson homage. "And that's thanks to our president, David Sundman, who's a bigger collector than I can ever hope to be!"
In 2014 the mint took a dramatic new direction in coinage by issuing its first convex baseball coin with an obverse featuring the all-important baseball mitt. It honors the 75th anniversary of the Baseball Hall of Fame in Cooperstown, NY. The reverse of the half dollar shows a laced ball similar to those used by major league players.
Want to be more like Mike and collect these important baseball milestones? Littleton Coin Company offers baseball fans the opportunity to get all 3 – 1992, 1997 and 2014 – as limited-issue 90% silver Proofs.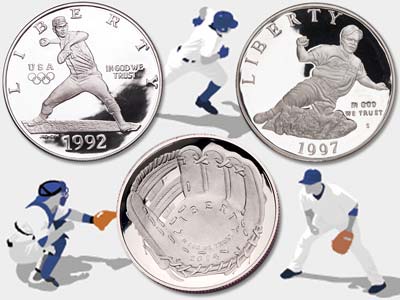 The next baseball coins?
Last summer, Congress introduced legislation for a commemorative coin featuring the first two African American players in the major leagues. On the 75th anniversary of breaking the color barrier, in 2022 the U.S. Mint will issue baseball coins honoring Jackie Robinson of the Brooklyn Dodgers and Larry Doby of the Cleveland Indians.
Congress has up to four years to vote on this proposal. As we all wait for that decision, what other designs relating to baseball history and its popular culture would you like to see on a coin's obverse? We have some ideas, but welcome the opportunity to hear from you!