Back to School the Numismatic Way!
How do you spend August? Looking for ways to beat the heat? Gathering with family and friends for one last barbecue? Shopping end-of-season sales?
If you're anything like my family of school teachers, summer's finale is the sweet spot of preparing new ideas for incoming students. Now that one of us works here at Littleton Coin Company, we're finding exciting new ways to be a part of a youngster's journey of discovery. Who knew learning math, history and science through the lens of collecting could be fun?!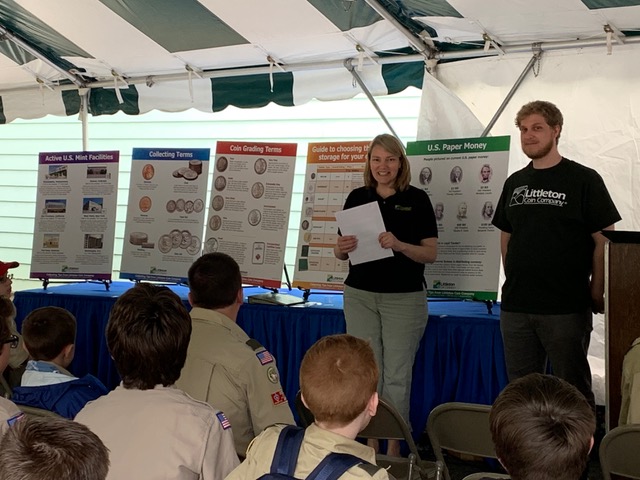 Ellie and Chris explain the fun facts of coin collecting to a fascinated audience of Boys Scouts. – Photo courtesy of Clark's Trading Post, Lincoln, NH
Well, to answer that question, two of my co-workers, Ellie and Chris! Earlier this summer they helped local Boy Scouts earn their coin-collecting merit badges.
"It's rewarding to mentor the next generation," said Ellie, whose older daughter has taken an interest in state quarters and regularly checks her pocket change. "Many were very excited to learn about numismatics."
Among various activities, Ellie and Chris showed the scouts how to tell the difference between five different grades of Lincoln cents. They also took them on a "world tour" with 50 foreign coins. Each also received Littleton Coin's "How to Collect Coins" booklet.
"It's rewarding to mentor the next generation… [the kids] were very excited to learn about numismatics."
If you have boy – or girl – scouts in your community looking to earn badges or patches, check out the scouts web page maintained by the American Numismatic Association (ANA). Bigger still, the ANA has an entire section devoted to Young Numismatists. Littleton Coin is a member and huge supporter of this organization devoted to both coin and currency education and collecting. In fact, we issued an "invitation" postcard to join the ANA at 50% off in our summer Showcase catalog. Want to receive a free catalog in the mail? Simply fill out this free subscription form!
Terrific educational gifts from Littleton Coin
If you've wondered about how to share your hobby with a young person in your life, why not consider a back-to-school gift? Littleton Coin offers a dandy starter set from the U.S. Mint if you're looking for an easy-to-use, all-purpose introduction that gives a clear, basic overview without being overwhelming. We also have a thrilling three-coin set on dinosaurs from the Royal Canadian Mint, if you have a youngster more receptive to specialty coins.
In our retail store here in northern New Hampshire and also online, we offer this handy My Quarter Collection (shown right) for all 112 statehood quarters and five U.S. territories. It's a great way to introduce children as young as six to the value of money and geography. And, the cut-out for their hands means it's portable!
If you are curious about how to teach children raised with plastic credit cards about the different denominations, why not try a U.S. Mint Set from the year of their birth? Today's six-year-old was born in 2013; here's an affordable 28-coin P&D set from that year to help make the connection more meaningful.
Lincoln and Native American Heritage
We recently heard from a collector who started out with a bag of Indian Head Cents given to him by his dad. Then he and two buddies switched to Wheaties. He's still collecting the most hard-working coin of them all. There are all different kinds of Lincoln cents that can spark a student's interest. It's our most versatile coin, after all!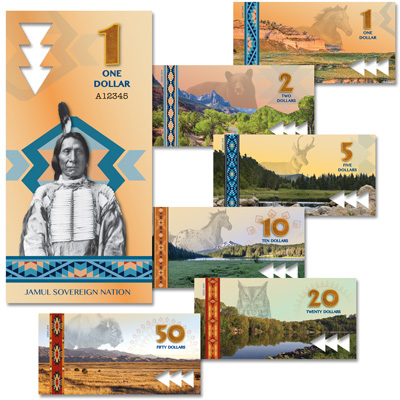 Are the kids in your life exploring Native American history and heritage? Give them a really cool currency set that's the next big thing in collecting – polymer notes. Lasting longer than paper bank notes and with stronger anti-counterfeiting features, this new currency is made from non-fibrous and non-porous polymer. It was first produced in 1988 in Australia. Littleton Coin has an exclusive with the Jamul Nation of California, a federally recognized tribe of Kumeyaay, for this colorful and detailed six-note set (shown left) which is legal tender on their reservation.
Space and War History
Have kids in your life interested in space exploration? Here's the link to Littleton Coin's handsomely designed folder for our exclusive Race to Space set of 12 colorized coins. Each Kennedy half dollar obverse has been enhanced by our artists. Special domed technology produces dramatic full-color images from America's space program. As it's released, each coin will come with a story card. The folder has a special side pocket to collect all the cards.
And last, but never least, are the teenagers in your life whose history classes no doubt will take them back to the 1940s and World War II. Here are two possibilities that give context to coins and history:
This 1941 set comes with copies of The New York Times, plus a replica of the Japanese Instrument of Surrender. With 2020 to be the 75th anniversary of V-J Day, this could be a timely back-to-school purchase for high school students studying 20th century American history.
Victors of World War II is a nifty colorized set exclusively from Littleton that is ideal for students of military history – of any age. After all, isn't learning a lifelong process?
Come on this journey of discovery with Littleton Coin. And, if you've had a teachable moment with either coins or currency, please share in our comments section.