Anna May Wong's Leading Role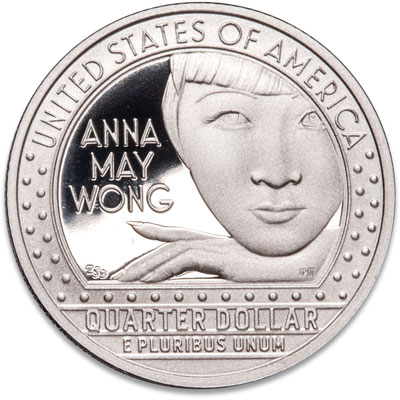 Born in the right place at the right time, Anna May Wong became the pioneer for Asian American film actors. Clear diction and flawless English made for an easy transition from silent movies to those with soundtracks. But stereotyped by Hollywood producers as either a villain or courtesan, leading parts for the talented and always stylish, 5'7" tall performer proved elusive.
Yet, Anna May never gave up. Her trailblazing role is honored with her portrait on the fifth and final quarter reverse for 2022 in the series launched by the U.S. Mint. Let's take a look at what she accomplished in her too-short lifetime.
Third Generation Chinese
Anna May followed a path completely different from her paternal grandparents who emigrated from China to California during the 1850's gold rush and opened a general store near Sutter's Mill. She didn't follow her father's footsteps, either. Located in a multi-cultural neighborhood on the edge of L.A.'s Chinatown, his laundromat put her at the threshold of an exciting new opportunity.
Ten years after her 1905 birth, more than 60% of all U.S. film production was taking place in the greater Los Angeles area. Local streetscapes were often used as film backdrops. To escape racial taunts, Anna May started hanging around the movie sets. At 14, she was hired as an extra in the first technicolor film made, The Red Lantern. In 1922, she landed her first leading role in The Toll of the Sea, a plot inspired by the 1904 opera Madama Butterfly. She was all of 17.
Two years later came her break-out role as the Mongol slave in the silent, yet swashbuckling adventure vehicle for Douglas Fairbanks Sr., The Thief of Bagdad. But starring roles still eluded her – she appeared as an Eskimo in The Alaskan and a Native American girl in Peter Pan – and so, Anna May left California.
Success in Europe
"Why is it that the screen Chinese is nearly always the villain of the piece, and so cruel a villain—murderous, treacherous, a snake in the grass. We are not like that," she later told a movie magazine, according to The Los Angeles Times. "We have our own virtues. We have our rigid code of behavior, of honor. Why do they never show these on the screen? Why should we always scheme, rob, kill?"
Once in Europe, Anna May found more, and varied, opportunities. She got to star in English, German and French movies; she performed on the London stage, and she appeared in European fashion magazines where "her look" ushered in the 1920s' wildly popular flapper era.
Her return to Hollywood included a shrew negotiation: she would appear in the 1931 film Daughter of the Dragon in exchange for the chance to work with Marlene Dietrich, whom she had met in Berlin in 1930. The resulting 1932 movie was Shanghai Express, which brought Anna May Wong greater success.
In 1936, she toured China making a documentary. In 1937, she was one of two Asian leads in the crime drama Daughter of Shanghai. The other lead was Philip Ahn, a Korean-American actor. In an interview with Hollywood Magazine, Anna May said, "I like my part in this picture better than any I've had before, not because it gives me better acting opportunities nor because the character has exceptional appeal.
"It's just because this picture gives the Chinese a break—we have the sympathetic parts for a change! To me that means a great deal."
Hollywood & Vine
After the United States entered WWII, Anna May shifted her focus to work on Chinese-American philanthropic efforts, plus two propaganda films about Chinese guerrillas fighting Japanese and German invaders, Bombs Over Burma and Lady From Chungking.
After the war, she continued to perform, but her health was deteriorating. In 1951, she became the first Asian American lead in a U.S. television show. Written for her, Anna May Wong starred as a detective in The Gallery of Madame Liu-Tsong for the DuMont Television Network. In 1960, she was awarded a star on the Hollywood Walk of Fame. She shared that honor with the film industry's first Mexican-American actor Dolores Del Rio and writer-director-producer Mae West. All three women's stars are located on Vine Street. In addition, these three performers, plus African-American actor Dorothy Dandridge, are commemorated as four Grecian-styled caryatids in a sculpture known as the Four Ladies of Hollywood.
Far more portable that the sculpture and still in time for holiday gift giving, you can order a special U.S. Women Quarters' ornament starring Anna May Wong.   
Sources:
Buscher, Ron. "The Untold Story of Asian Americans in Early Hollywood." Pacific Citizen, August 18, 2017. https://www.pacificcitizen.org/the-untold-story-of-asian-americans-in-early-hollywood/
Low, Alex Low. "Uncovering The Complex History of Asian Representation in Hollywood." Augustman, November 20, 2021. https://www.augustman.com/sg/culture/film-tv/complex-history-asian-representation-hollywood/
Admin. "Anna May Wong." October 27, 2014. New-York Historical Society. "Chinese American Exclusion/Inclusion: September 26, 2014 through April 19, 2015." Accessed October 12, 2022. https://chineseamerican.nyhistory.org/anna-may-wong-1905-1961/
"Anna May Wong Biography." Encyclopedia of World Biography. https://www.notablebiographies.com/We-Z/Wong-Anna-May.html#ixzz7hcPVqcaQ
Gonzales, Erica. "Hollywood Tries to Right Anna May Wong's Story—Here's What Really Happened." Harper's Bazaar, May 1, 2020 https://www.harpersbazaar.com/culture/film-tv/a32346961/who-is-anna-may-wong-hollywood-star/