All that glitters…
Introducing the NEW 2021 Gold American Eagle Design!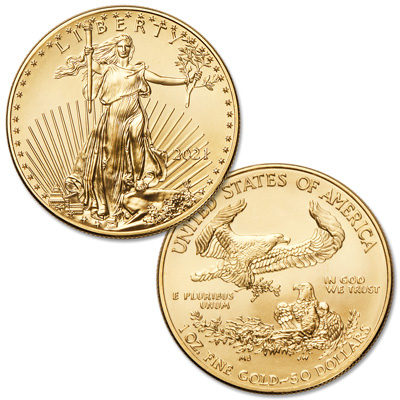 2021 $50 1 oz. Gold American Eagle
Although the American Silver Eagle has received plenty of coverage this year for its changing reverse design, it's not the only long-running U.S. bullion coin getting a makeover in 2021!
That's right – after 35 years, all four different 2021 Gold American Eagle denominations are also getting a new reverse design!
Where it all began
These coins were made possible by the Gold Bullion Coin Act, which was signed into law by President Ronald Reagan on December 17, 1985. It authorized the creation of gold coins in four different denominations – $50 (one ounce), $25 (half ounce), $10 (quarter ounce) and $5 (1/10 ounce). Mere months later, the 91.67% fine Gold American Eagle was released to the public!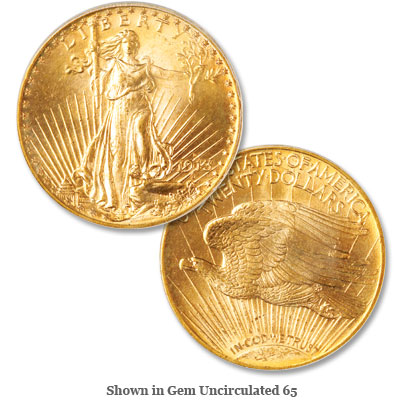 1913-D Saint-Gaudens Gold $20 Double Eagle
The obverse replicated sculptor Augustus Saint-Gaudens' inspired Liberty design. Originally seen on double eagle gold coins of 1907-1933, this design shows a stunning, full-length image of Liberty striding forward holding a torch and olive branch, with radiant sun rays and a distant view of the U.S. Capitol behind her.
When it first debuted at the beginning of the 20th century, this design was part of a coin design renaissance inspired by President Teddy Roosevelt – who had invited the nation's finest sculptors and medalists to re-design America's coins. The resulting coins boasted some of the finest designs in U.S. history – and this one was no exception! In fact, this beautiful gold design is widely considered the most beautiful U.S. coin design ever.
Handsome reverse designs
Since the start of the series, Miley Busiek's family of eagles design has graced the reverse. It features a male eagle carrying an olive branch, poised to land in a nest with a female eagle and two eaglets. And while this design was the first used in 2021, it was replaced partway through the year with an all-new reverse!
This new reverse was crafted by Jennie Norris – a designer with the U.S. Mint's Artistic Infusion Program. Showing an eagle's profile in remarkable detail, this design is a modern update to a beloved classic.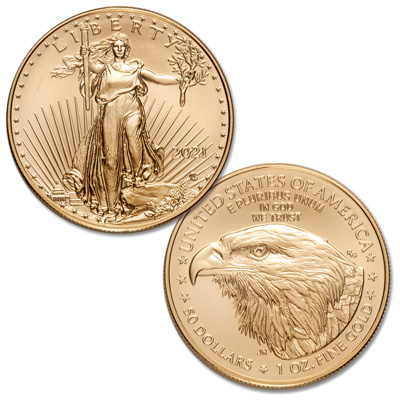 2021 T2 Reverse $50 1 oz. Gold American Eagle
Updates for a modern era
In addition to the new reverse, all 2021 Gold American Eagle coins are also getting a few extra security updates! The obverse has been restored to better reflect designer Augustus Saint-Gaudens' original design. Plus, on the one ounce ($50) coin, a reeded edge variation is included.
Whether you've been collecting Gold American Eagles since the beginning, or whether you're looking for an exciting new addition to your collection – this is your year!