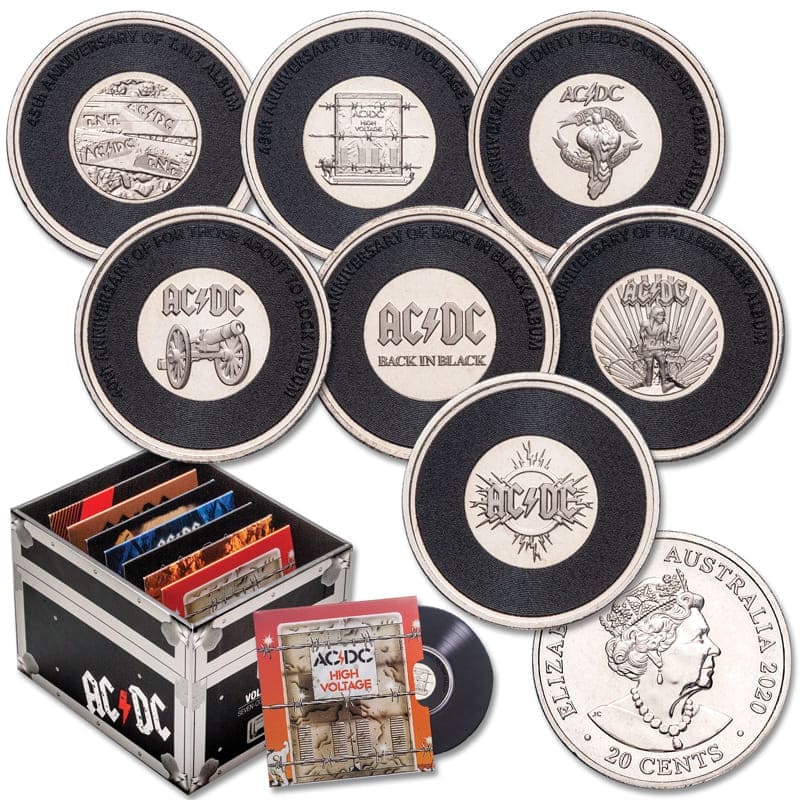 Heavy metal's rebellious bad boys – AC/DC – are wildly popular with coin collectors! So much so that world coins commemorating the seminal band started by brothers Angus and Malcolm Young sold out the first time.
Now Littleton Coin has an encore opportunity. Collectors and fans can own this unique seven-coin set that pays tribute to the Australian group's chart-topping, voice-shredding, power-chord driven, monster backbeat sound that defined 1970s rock 'n' roll.
Born to break the rules
Released by the Royal Australian Mint, the Uncirculated 20-cent coins struck in copper-nickel have been colorized to look like black, long-playing records. Each center features an iconic graphic from the corresponding, and miniature, album jacket it's placed in.
In a nod to AC/DC's lightning bolt insignia, Ross MacDiarmid, the mint's then-chief executive, noted these are "…the vinyls that have electrified generations of music lovers…"
The main coins commemorate anniversaries for the band's six most noteworthy albums:
T.N.T. (1975) – maiden album, only released in Australia
High Voltage (1976) – first album issued worldwide
Dirty Deeds Done Dirt Cheap (1976) – quintessential hard rock rebellion record
Back in Black (1980) – the band's biggest selling – and comeback – album after losing original lead singer Bon Scott
For Those About to Rock (1981) – a follow-up album to Back in Black, it reached #1 on the U.S. Billboard chart
Ballbreaker (1995) – marked the return of the band's original drummer Phil Rudd

The seventh coin depicts the AC/DC logo with its Gothic-inspired script designed by lettering artist Gerard Huerta, who also designed the High Voltage album cover in an entirely different font.
"I would not have known that a piece of lettering I did for an album cover would still be around. . ." said the modest Huerta in an interview at ceros.com, an experiential content creation platform. "It's a testament to their longevity as a group more than any contribution I made."
The entire 7-coin set comes in an AC/DC storage box that looks like a shipping case for the band's equipment. Only 30,000 sets of these world coins were issued for global distribution.
2003 Rock Hall Induction
Margaret Young, the brothers' sister, is credited with giving the musicians two of their now-iconic personas. The first is the band name. She suggested it after she noticed the initials for alternating current/direct current on her sewing machine. Given the power-driven nature of their music and lyrics, Angus and Malcolm agreed AC/DC represented what they were going for.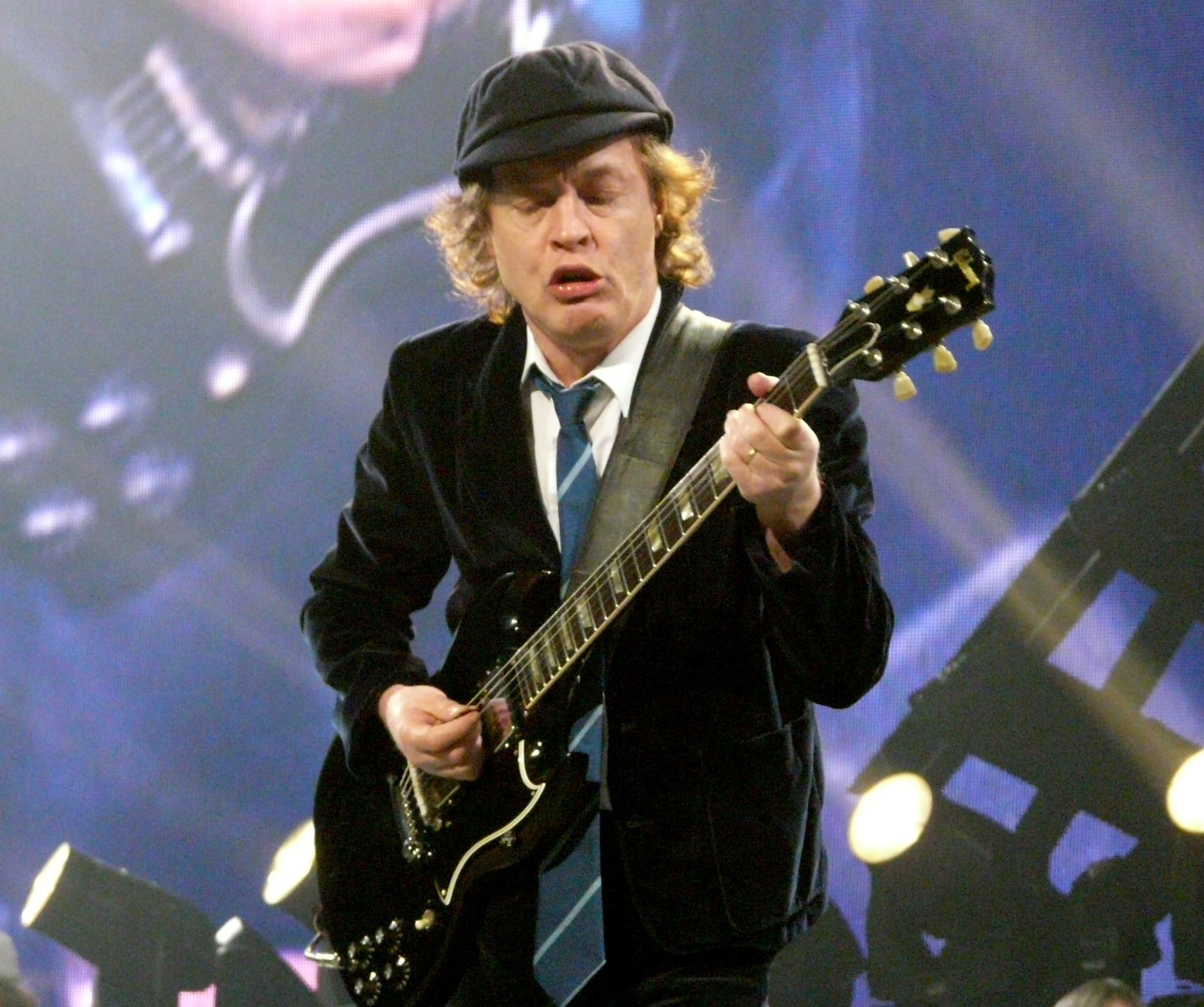 Margaret also proposed Angus wear his Ashfield Boys High School uniform on stage. The shorts, blazer, white sports socks, cap and tie provided a tailored, as well as cultural, counterpoint to the jeans and tee shirts worn by the rest of the band. Plus, it made Angus stand out all the more in his high-energy stage act. That performance included his own version of Chuck Berry's famous duckwalk coupled with his head-bobbing, hair-flipping and chord-sweeping guitar solos.
"We love to rage on," Angus told Aerosmith's Steve Tyler just prior to AC/DC's 2003 induction in the Rock & Roll Hall of Fame. Tyler used that line in his speech that hailed the heavy metal band for allowing fans to "bathe in the tribal energies of a thousand power chords."
Given the 2017 passing of Malcolm, this unique set of world coins is an exceptional addition to any collection. AC/DC – both the band and brand – defined a generation of rock 'n' roll.