A Century of Celebration:
The Origins of National Coin Week
It's been quite a month for collectors.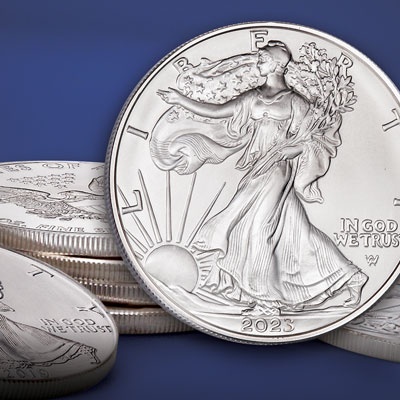 Here at Littleton, we held our exciting Silver Dollar Sweepstakes giving collectors the chance to win not one, but FIFTY 2023 American Silver Eagles. And with each Uncirculated coin struck in 1 oz. of 99.9% pure silver, that's quite a prize!
But that wasn't the only exciting event in April.
Because from April 16–22, coin collectors across the nation celebrated the hobby we love with National Coin Week.
The event is held annually in April. And each has a different theme, with this year's being "Our Money, Our Heritage, Our America." And as themes go, it's truly fitting.
In part, because coins and currency capture the history of the nations that issue them in a truly unique and tangible way. But also because April marked…
The 100th Annual National Coin Week!
This year marks the centennial anniversary of what is arguably the most popular week for coin and paper money enthusiasts.
Sponsored by the American Numismatic Association, or ANA, National Coin Week was first proposed in 1923 by the ANA's serving governor, Julias Guttag.
Guttag envisioned the event as a way to achieve three goals. First, to attract the general public to the hobby. Second, to increase the number of ANA memberships. And third, to aid the science of numismatics.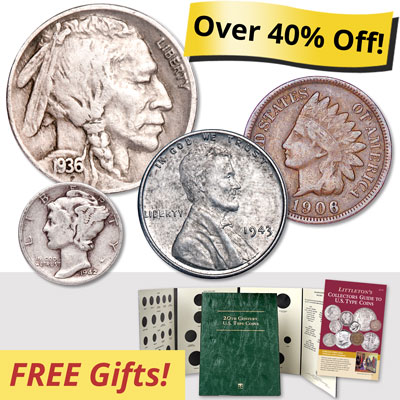 Others agreed, and in December the first National Coin Week was announced in the ANA's magazine, The Numismatist. It was held just two months later, from February 9-16, 1924.
An annual tradition is born…
The first National Coin Week proved a resounding success, and almost immediately talk began of making it an annual event. It was held again from February 15-21, 1925 – with a couple of twists.
In 1925, the event's name was changed to "Old Coin Week," and its three-fold purpose evolved. The event now focused on sharing numismatic knowledge, demonstrating that numismatics is an educational and entertaining pursuit, and helping imbue collectors with enthusiasm and love for the hobby.
Again, the event was successful. And it continued to be successful in 1926 and 1927. But for more than a decade, the popular event was essentially held in name only. It received little, if any, promotion by the ANA from 1928-1938.
Saved by Mr. Lee Hewitt…
Things had begun to look bleak for the Coin Week. That is, until 1939 – when ANA member Lee Hewitt of Chicago proposed the ANA reinstate the hobby's annual celebration. Hewitt also proposed the name be changed to "National Coin Week" – a name it has carried ever since.
The renewed National Coin Week was held in March, and soon became bigger than ever. In 1942, it was moved to the third week in April. And ever since, collectors across the nation have joined in celebrating the hobby we love.
These days, National Coin Weeks are filled with seminars, presentations, coin design challenges, trivia challenges and more.
They're a great way to meet others who share your interests. As well as educate yourself about the coins and paper money. But most of all, National Coin Week is a celebration of the hobby we love.
And it will continue to be so as long as we collectors feel it's worth celebrating. Just ask Mr. Lee Hewitt of Chicago.
Happy Collecting!
Sources
Littleton's Silver Dollar Sweepstakes." Littleton Coin Company. Accessed April 24, 2023. https://www.littletoncoin.com/shop/Sweepstakes
"National Coin Week 2023" American Numismatic Association. Accessed April 24, 2023. https://www.money.org/numismatic-events/national-coin-week
ANA Staff. "History of National Coin Week." Accessed April 24, 2023. https://www.money.org/blog/history-of-national-coin-week