Hawaiian Honored on 2023 Quarter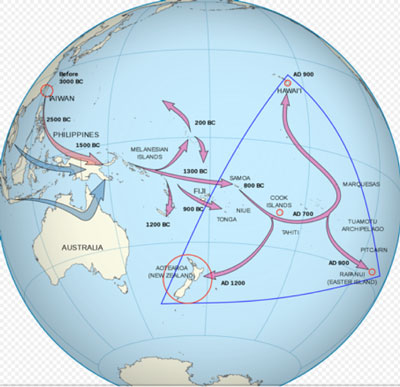 Mention ancient civilizations to a coin collector, and Mesopotamia might come to mind. But 100 years or so before the collapse of Rome, another early empire, one civilization was expanding. Far away, in the South Pacific Ocean, Polynesians left the crowded Marquesas archipelago around A.D. 400. In double-hulled outrigger canoes, they made their way 2,336 miles north.
They landed on another series of volcanic islands they knew as part of the Polynesian trading triangle where there were far fewer inhabitants. Fertile soil and a tropical climate provided the kind of bountiful environment that could sustain a thriving civilization….until outside interests threatened their vibrant culture with extinction.
Enter descendant Edith Kanaka'ole. A naturalist, noted hula performer and writer of original chants, she set out in the 1970s to preserve the Native Hawaiian way of life. Edith's trailblazing work is honored on the seventh quarter in the U.S. Mint's new series celebrating women's pioneering achievements.
Goddess of Fire
Take a close look at Edith Kanaka'ole's portrait on the quarter's reverse. Her hair and head lei morph into the islands' volcanic landscape. In this native culture, volcanoes are sacred. Their goddess, Pele, was created by Mother Earth. She could destroy the land as well as create new.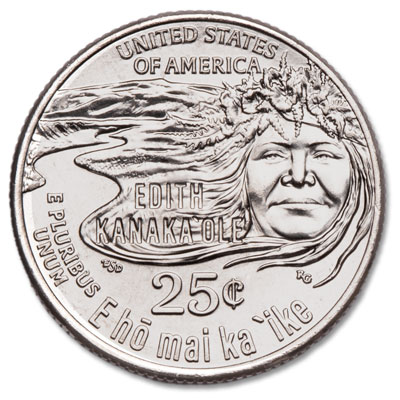 According to legend, Pele lives in the Halemaʻumaʻu Crater at the summit of Kīlauea on the Big Island. Successive generations of Polynesians living in Hawaii continue to make pilgrimages there, performing hula and chants, and leaving her offerings.  
But it was in 1906 that a Honolulu newspaper publisher launched a campaign to conserve as a public park both Kilauea and the nearby Mauna Loa volcanoes, plus Haleakala volcano on the island of Maui. Eventually, the Kilauea Caldera was added as well as the Mauna Loa forest and game reserve, the Ka'u Desert (renowned for warrior footprints fossilized in ash), the lush Ola'a rainforest, and the 13th-19th century Kalapana archaeological site.
Three years after Edith's birth, President Woodrow Wilson signed legislation in 1916 creating the Hawaii National Park. In 1961, the separate Hawaii Volcanoes National Park on the Big Island and Haleakala National Park on Maui were established.
When Hawaii Had a King
Genealogical records trace Edith Kanaka'ole's known ancestors back to a great-grandfather born in 1831. That was six years after an Englishman established the first commercial sugar plantation on the Hawaiian islands. At the time, Hawaii was a monarchy, with the islands' warring populations having been united by King Kamehameha I. Under his successor, Kamehameha III, Hawaii evolved into constitutional monarchy.
But by 1893, American business interests controlled the islands' economy. With the onset of the Spanish-American War in the Pacific in 1898, the federal government annexed the islands for a strategic fueling station and naval installation. In 1900, the Territory of Hawaii was formally established with passage of the Organic Act.
Then, in 1921, President Warren G. Harding signed into law the Hawaiian Homes Commission Act intended to address the lack of property ownership by Native Hawaiians. Edith's widowed mother, Mary Keliikuewa Ahiena, was the first Native homesteader on the Big Island to sign up. Edith was just eight years old.
That first-hand experience would later provide Edith Kanaka'ole with another cornerstone in her quiet crusade to extend knowledge of the Native Hawaiian way of life to the next generation. For the islands' indigenous descendants, land ownership was, quite literally, a foreign concept. Yet land was integral to how they lived and necessary for their customs. But it had become increasingly unavailable to them for homes and farming as ever more outsiders moved to the tropical paradise.
That's not all Mary shared with Edith. In a tradition as old as time, she taught her daughter the hula and passed down to her the chants, or oral histories, she had learned from her own mother. The "Americanized" Edith then took it upon herself to become fluent in Hawaiian. Her goal? She wanted to understand the meanings embedded in the rhythmic chants of a language of five vowels and just eight consonants. In 1946, Edith started to compose chants and choreograph hula movements to them as she extended Hawaiian culture and history into the post-WWII era.
After Hawaii Became the 50th State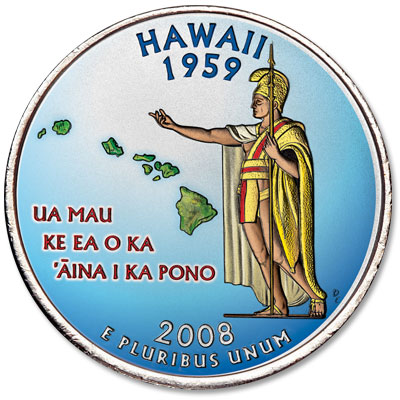 With Hawaii statehood still five years off, Edith debuted as an entertainer in 1954. She proceeded to spend more than 10 years performing while also teaching her surrounding community in the traditions of hula and chants.
Her major trailblazing achievements occurred in the 1970s. Edith pioneered college-level courses that triggered the renaissance of Native Hawaiian culture. The scope was as broad as it was comprehensive: Polynesian history, mythology, genealogy, hula choreography and chants, land ownership, the cultural significance of ohana (extended Hawaiian family), plus ethnobotany to explain how Native Hawaiians make use of indigenous plants for worship, medicine and food.
In 1979, she released what became an award-winning album of chants, Hi`ipoi I Ka `Aina Aloha (Cherish the Beloved Land). Her contemporary compositions encompassed all the major styles of delivery. That same year, Edith received the state's Distinction of Cultural Leadership award.
Take one more look at the Edith's quarter. It was sculpted by Medallic Artist Renata Gordon and designed by Emily Damstra of the mint's Artistic Infusion Program. The inscription, in Hawaiian, is e ho mai ka'ike. It translates to granting the wisdom. It's a powerful acknowledgement of the cultural preservation work performed by Edith Kanaka'ole and underscores her inclusion in the mint's new quarter series. Mahalo nui loa, Edith.
Sources:
"Hawaii – History and Heritage" Smithsonian.com November 6, 2007. Accessed Jan. 12, 2022. https://www.smithsonianmag.com/travel/hawaii-history-and-heritage-4164590/
U.S. National Park Service. "Overview of Hawaiian Prehistory." Accessed January 13, 2022. https://www.nps.gov/parkhistory/online_books/kona/history1a.htm
U.S. National Park Service. "Volcanoes, Craters & Lava Flows." Accessed January 25, 2023. https://www.nps.gov/subjects/volcanoes/traditional-knowledge-of-prehistoric-eruptions.htm
U.S. National Park Service. "Old Sugar Mill of Koloa." Accessed January 26,2023. https://www.nps.gov/places/old-sugar-mill-of-koloa.htm
"Joint Resolution to Provide for Annexing the Hawaiian Islands to the United States (1898)." Accessed Jan. 27, 2022.https://www.archives.gov/milestone-documents/joint-resolution-for-annexing-the-hawaiian-islands
"Organic Act." Accessed Jan. 27, 2023. https://encyclopedia.densho.org/Organic_Act/