On the hunt for the elusive 1955 Doubled Die Lincoln Cent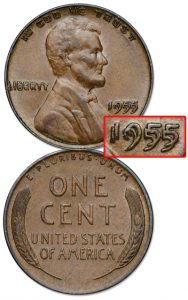 Sometimes locating the coin in the condition and at the price you want is difficult – and that's where we come in. We make it easy for you to acquire the coins you want, by searching our extensive inventory and using our network of nationwide contacts to track them down. But occasionally, Littleton's president, David Sundman gets involved – as in the case of Brian's search for a full red 1955 Doubled Die Obverse Lincoln Cent.
If ever there was the perfect U.S. coinage error, it was this Lincoln cent. Easy to spot, the 1955 Doubled Die Obverse became a national sensation, at a time when few really collected coins or even checked their change for errors. This prized cent variety was caused by a shift in the hub between impressions while making the obverse die. It's a spectacular error that's dramatic and easy to see. Now after more than 60 years, you'd think demand for this coin would have dropped, but it hasn't! And that's why Brian from Rhode Island wrote to us asking to help him find this popular favorite. As he put it:
"A few years back I asked you about finding me a 1955 DD Full Red Lincoln penny. I love this coin and before I die, I hope to have it. Also, I know the longer I wait the more it's going to cost."
He had seen some Uncirculated 1955s on eBay and wondered if we had any in our inventory. As it turned out, we did – we had two! The 1955 Doubled Die introduced many collectors to the hobby and it's estimated that between 3,000 and 4,000, in all grades, exist today. With so few surviving, you can see why locating genuine Uncirculated issues are especially difficult. Especially when you consider many were put in cigarette packs as change.
In 1955, a new one-cent tax on cigarettes added to a severe cent shortage, and the Philadelphia Mint worked 12 hours a day, 7 days a week churning out cents to catch up. Ironically, these errors turned up inside the cellophane wrappers for cigarette packs in vending machines – cigarettes were 23¢ then and these pennies made up the change for a quarter.
Brian wrote back to say he was interested, even though one was Brown and one was Red Brown. But then he added, "Anyway, I want to ask you something "big," I don't know how many 1955 DDs in MS-64 you have, but would you pick out the best one your eyes see? I know you're a busy guy. I would be proud to know that you picked it out!" And that's how David came to be involved.
As you can see, our Customer Service staff goes the extra mile to make collectors' dreams come true. So if you have something special you're looking for, contact us and we'll be happy to help you.