Sneak Peek to the 2023 Women Quarters featuring Iconic Women
The 2023 U.S. Women Quarters are almost here, honoring five trailblazing women on the reverse; Bessie Coleman, Jovita Idar, Edith Kanaka'ole, Eleanor Roosevelt and Maria Tallchief. The obverse of each coin in the U.S. Women Quarters collection was designed by Laura Gardin Fraser, one of the 20th century's most famous female sculptors. The portrait of George Washington sits handsomely amongst the inscribed words liberty, in god we trust, and 2023. Each reverse honors one of these five history making women. Each includes the standard inscription of "united states of America," "quarter dollar," "e pluribus unum." You can explore the 2022 U.S. Women Quarters here and keep an eye out for when the 2023 coins hit our shelves!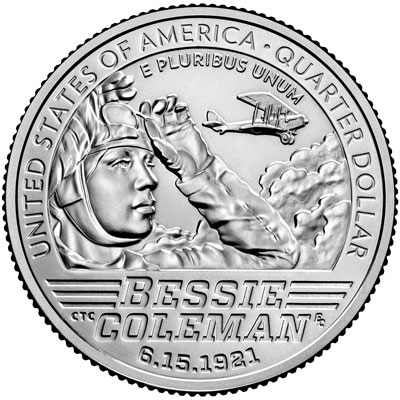 Bessie Coleman was the first African-American and Native American woman pilot. She was born on January 26, 1892 in Atlanta, Texas into a large family having 12 siblings. Despite racial and gender discrimination, she didn't let being turned away from aviation school in the United States stop her from pursuing her dreams to be a pilot. Instead, she applied and was accepted to the Caudron Brothers' School of Aviation in Le Crotoy, France. On June 15, 1921, Coleman had officially earned her international pilot's license. Known for her incredible flying tricks, she became known as "Brave Bessie," "Queen Bess" and "The only race Aviatrix in the world." She tragically died on April 30, 1926 in a plane crash as a co-pilot in Jacksonville Florida.
This commemorative quarter was designed by Chris Cotello from the Artistic Infusion Program and sculpted by Eric David Custer, a United States Mint Medallic Artist. The reverse features Bessie Coleman gearing up to take flight with a stoic expression reflecting the freedom she experienced in the sky opposite to her life on the ground. Inscribed with "bessie coleman," and the date she earned her pilot's license "6.15.1921."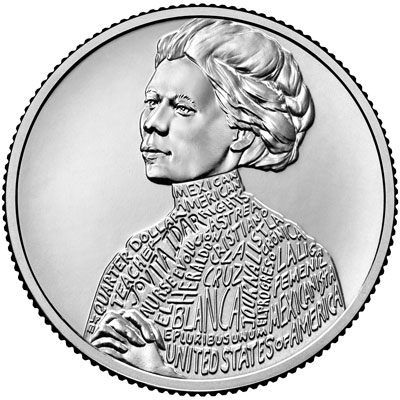 Jovita Idar the Mexican-American journalist, activist, suffragist and teacher. Born on September 7, 1885 to her parents Nicasio & Jovita Idar, who had nine children together. Her father Nicasio was a newspaper editor and civil rights advocate. It is no surprise that she followed in her father's footsteps. Jovita earned her teaching degree at the Holding Institute in 1903 and had a short-lived teaching career. Her resignation was due to segregation and the poor conditions for Mexican-American students. She joined two of her brothers and her father at their father's newspaper. The topics of her article writing alternated between women's suffrage and Mexican-American rights. She used the media to amplify her feminist voice by encouraging women to vote. She was also an avid supporter of the Mexican Revolution that was taking place in Mexico at the time, and she used her writing to unveil what was happening south of the U.S. boarder. Jovita single handedly protected and saved her family's newspaper headquarters from the Texas Rangers who at the time were notorious for heinous racial crimes.
This commemorative quarter was designed and sculpted by John P. McGraw of the United States Mint Medallic Artists. The reverse showcases Jovita Idar's portrait with her hands clasped. Her body is covered in inscriptions paying tribute to some of her greatest accomplishments and acknowledging the newspaper she wrote for. "mexican american rights," "teacher," "journalist," and "la liga femenil mexicanista."
Edith Kanaka' ole a Hawaiian cultural icon. Famous as an influencer in the Hawaiian renaissance, kumu hula, chanter, and musical compositions. She was born on October 30, 1913 in Honomu, Hawaii and lived until October 3, 1979. The internationally acclaimed dance school of Kanaka' ole is where Edith taught hula for decades. She impacted many students with her dancing and teaching abilities. Her legacy lives on through the Edith Kanaka' ole Foundation – a non-profit founded in 1990. Their mission statement is: "Established on the vibrant traditions and rich cultural heritage of the Kanaka' ole family, it is the foundation's mission to elevate Hawaiian intelligence through the cultural education founded on the teachings and traditional practices of Edith and Luka Kanaka' ole."
This commemorative quarter was designed by Emily Damstra of the Artistic Infusion Program. The sculptor, Renata Gordon, is a United States Mint Medallic Artist. The reverse showcases Edith Kanaka' ole with her lei po'p (head lei) and her hair down which morphs into the Hawaiian landscape and elements. A tribute to her work of preserving the natural land and traditions of the Hawaiian culture. Inscribed with "edith kanaka' ole" as well as the words "e ho mai ka 'ike" translates to "granting the wisdom." This is a nod to her respect for hula and chanting having important roles in the preservation of culture and the land.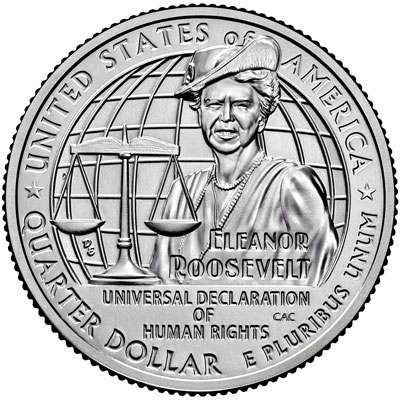 Eleanor Roosevelt, who served as first lady to the 32nd President Franklin D. Roosevelt from 1933 to 1945. Eleanor was born with the name Anna Eleanor Roosevelt to Anna Hall and Elliott Roosevelt on October 11, 1884 in New York, New York. She passed away in her home state and town on November 7, 1962. Marrying her fifth cousin Franklin on March 17, 1905, together the couple would have six children within the span of a decade. She worked with the American Red Cross as well as serving from 1913 until 1920 as the Assistant Secretary of the Navy where she helped implement Navy policies during the first World War. Mrs. Roosevelt shaped and defined the role of being a First Lady. A history maker, she became the first First Lady to hold her own press conference, and only allowed female reporters to attend. She wrote her own newspaper column called "My Day" up until she died. A prominent advocate for women's rights, Eleanor was involved in numerous New York based networks that worked towards improving voting and workplaces for women. Among all of her trailblazing achievements, she bought Todhunter, an all-girls school in Manhattan New York with her two friends Nancy Cook and Marion Dickerman. Eleanor was an Associate Principal and taught literature, history and current event courses.
This commemorative coin was designed by Don Everhart, from the Artistic Infusion Program and sculpted by Craig A. Campbell, a United States Mint Medallic Artist. The reverse is graced with a portrait of Eleanor Roosevelt with the scales of justice against a map-like back drop symbolizing her work with the Universal Declaration of Human Rights. Inscribed with the words "eleanor roosevelt," and "universal declaration of human rights."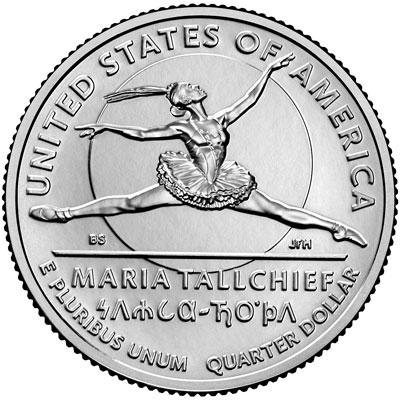 Maria Tallchief the groundbreaking ballet icon, was the first Native American woman (Osage Tribe) to establish a career as a ballerina. She was born in Fairfax, Oklahoma on January 24, 1925 and named Elizabeth Marie Tall Chief. When she was a teenager, her family moved to Los Angeles, California. After graduating high school, she moved to New York City where she shortened her birth name to Maria Tallchief and studied ballet for years. Despite racial discrimination, she became one of the most famous ballerinas in the world. In the 1940s, she started her career with the Ballet Russe de Monte Carlo dance company. She had popular roles in the productions of Firebird, Miss Julie, Orpheus, Scotch Symphony, and The Nutcracker where she danced as the Sugar Plum Fairy. Named as the first prima ballerina (lead female dancer in a ballet company or production) of the New York City Ballet in 1947, Maria held this role for 13 years. She also became the first American to perform with the Paris Opera Ballet that same year. Another one of her historic performances was in 1960, when she became the first American to dance at Moscow's Bolshoi Theater. She then joined the American Ballet Theatre where she performed for President John F. Kennedy in 1962, and went on to tour Europe. Highly accoladed for her work, Tallchief was inducted to the National Women's Hall of Fame in 1996, and that same year, she received the Kennedy Center Honors – which is presented to just five artists annually. She was also awarded the highest recognition for artists in the United States, the National Medal of Arts in 1999. She would become a prominent advocate for injustice.
This commemorative coin was designed by Ben Sowards, an Artistic Infusion Program Designer. Sculpted by Joseph Menna the United States Mint's Chief Engraver. Elegantly depicted, Maria Tallchief appears under a spotlight in a ballet pose with her Osage name translating to "Two Standards" along with the inscription "maria tallchief."
All five women impacted the world in a positive and fierce way. From standing up for human rights and preserving culture, to overcoming gender and racial discrimination, to redefining the role of a woman in politics and at home. These women fought for themselves and the women of the future. It is an honor to recognize them with this series!