Own the Luck of the Irish!
Whether you are superstitious or not, these are sure fire ways to increase your good fortune. From the way you think to how you treat others! If these mindsets don't change your life, the lucky tokens below sure will!
Believe that you are lucky! Your mindset shapes the world around you. When you truly believe that you have good fortune, opportunities will arise. A newfound confidence will allow you to take risks and you will be willing to face your fears. Set clear goals! By setting goals for yourself, you will be more aware of related opportunities that will get you to achieving your goals. For instance, your dream job isn't going to land in your lap, you are going to have to find it, apply for it, interview and then accept it. If you aren't even looking for that application, how do you expect to get that lucky "you got the job" phone call? Spread kindness! You know that saying "what goes around comes around?" This is a prime example of this. By being kind to others, kindness is likely to meet you in return. Three principles of kindness that are thought to bring you positive luck are;
Treat others the way you want to be treated
Do not treat others in a way you would not want to be treated
What you wish on others you wish on yourself. Your thoughts can directly impact the world around you, you can choose to see the glass half full or half empty. Perspective can change your entire life and luck if you let it!
Luck is often determined at the hands of fate…or a coin. Flipping a coin. Finding a penny and picking it up so that "all day long you have good luck." Something old, something new, a sixpence for your shoe. Or tossing a coin into a fountain while making a wish. I have handpicked these unique pieces from Littleton Coin Company to add the luck of the Irish to your life!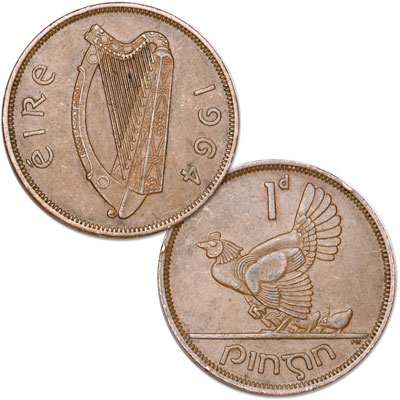 Bronze Pennies
Just imagine how much luckier you'll be with a large-size Irish penny. Struck at the Royal Mint in London from 1928-1968, large pennies were replaced by smaller pennies when Ireland switched to decimal coinage in 1971. The Gaelic words for Ireland and penny are on each piece. Littleton Coin Company offers these sophisticated lucky charms in both Circulated and Uncirculated conditions!
Ireland 10£ Note
Issued by the Ulster Bank of Northern Ireland, this handsome 2018 10£ Polymer Note celebrates the Emerald Isle's rich farming heritage. The first vertical note of its kind in the United Kingdom, the 10£ polymer note displays a see-through security feature, which appears in the outline of Lough Erne (two connected lakes in County Fermanagh in Northern Ireland). Bring authentic Irish luck to your collection today!
Lucky Rabbits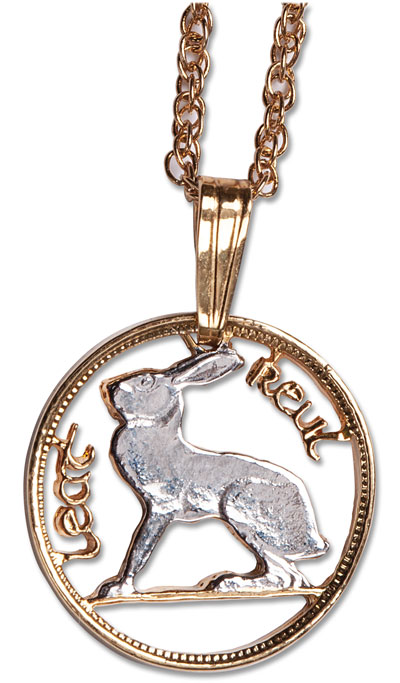 According to different cultures and beliefs, rabbits are thought to be a sign of good luck and a symbol of new beginnings. These stunning pieces honoring the rabbit are sure to bring a hop of good luck to you.
Issued from 1939-40, this 3 Pence from Ireland depicts a proud rabbit and an Irish harp. Be sure to place this example in your collection while you can!
Better yet, wear your lucky charm as a beautiful necklace! This genuine Ireland 3 pence coin has been hand cut to highlight the coin's rabbit design. The pendant includes inscription of leat reul which translates to "half a sixpence." Layered in 14k gold and precious rhodium and comes suspended from a 20″ 14k gold-plated rope chain.
Don't leave it up to fate, secure your own good luck and check out Littleton Coin Company's collection of lucky tokens today!