Fall in love with these romantic gifts just in time for Valentine's Day
It's like overnight Cupid visited every convenience store in the world and filled the shelves with pink, red, hearts, cards, teddy bears and candy for Valentine's day. If you are on the fence about finding the perfect present, here at Littleton Coin Company we have handpicked the most romantic and thoughtful gifts for your loved one this year for the holiday of love! These are my personal favorites, from love coins to Romeo & Juliet and jewelry.
Gifts inspired by Shakespeare's classic love story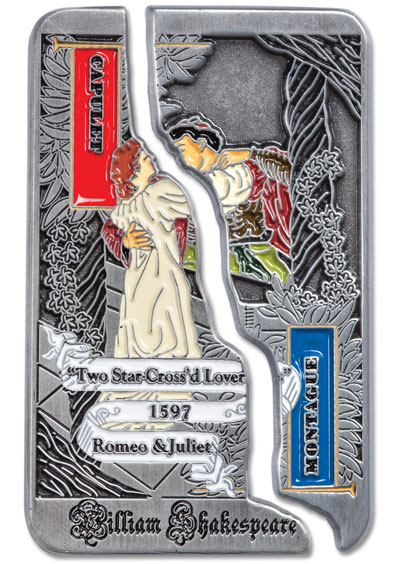 What better way to celebrate love than with remembering Shakespeare's iconic love story, Romeo and Juliet? Give the gift of coin collecting with these love themed tokens!
Honor an age-old tale of young love and family strife, with this handsomely designed "split" bar! It was released to honor the 425th anniversary of William Shakespeare's classic Romeo & Juliet, first published in 1597. The bar's front is selectively enhanced in color, and shows the star-crossed lovers in an embrace – tragically, the bar is split in half, separating the two. The play's prologue is inscribed on the back. A clear capsule that holds both halves is included so you can reunite the lovers. A great gift for literary enthusiasts!
A layer of precious 24k gold intensifies this Brilliant Uncirculated heart-shaped coin celebrating the world's most famous star-crossed lovers, Romeo and Juliet. The obverse features Queen Elizabeth II, the denomination, the year and the country of origin where this coin is legal tender. Minted in 2022 with a filigree field, this unique anniversary issue honors eternal love and makes for a beautiful gift for someone special.
Stunning love coin in vibrant color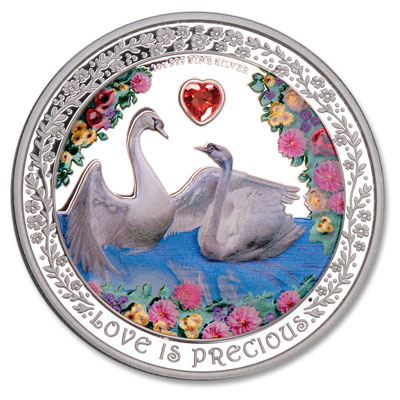 Show your love with this exquisite 2023 Proof in the popular "Love is Precious" series. Struck in 1 oz. of 99.9% pure silver, the reverse features two courting swans floating on serene blue water, encircled by colorful flowers. A red heart-shaped cubic zirconia glitters brightly above them with an ornate border on the reverse that has the inscription love is precious. The obverse depicts what may be the last profile of Queen Elizabeth II for this series, the year and the legal tender value of two dollars. This beautiful coin comes encapsulated and, in a heart-shaped presentation box, perfect for gifting to your loved one!
Can't go wrong with jewelry
Surprise! We offer a beautiful collection of jewelry as well as coins and currency. Some necklaces highlight elements of nature like gold and wildlife!
Enjoy the world's most coveted metal with this dazzling hexagon-shaped pendant filled with lustrous gold flakes and suspended from a 14k gold-plated 18″ rope chain. Prized for its unique beauty and enduring qualities, gold has been fashioned into jewelry since ancient times. This glittering hexagon-shaped pendant, displaying genuine gold flakes suspended in resin is simply stunning. Each pendant is surrounded by a 14k gold-plated bezel and comes presented in a ready-to-give box. The artist crafts each piece by hand right here in the U.S., so no two are alike! This timeless style is sure to wow your Valentine.
Add a splash of the ocean to your loved one's collection with this sterling silver Dolphin pendant. It's hand cut from a 92.5% silver Gibraltar 50 Pence coin of 1990-1997. This stunning octagon-shaped coin features five dolphins swimming in a circle. These beloved aquatic creatures represent harmony, balance, protection, and luck. Suspended from a sterling silver 20″ box chain and bail, it comes gift boxed and ready for your special someone!
These gifts are sure to spread love and joy this Valentine's Day! Who is your Valentine this year?