Coins of the California Gold Rush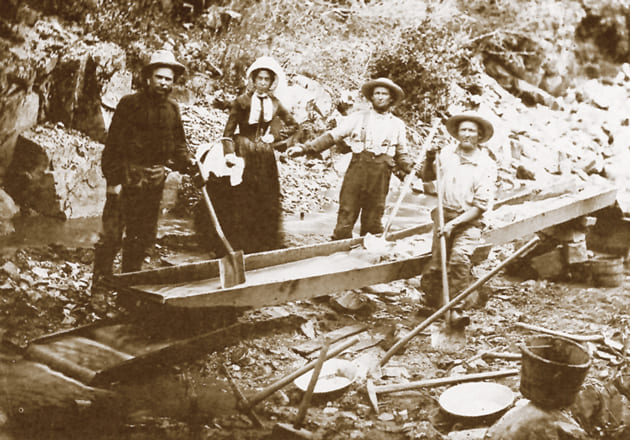 The Great Gold Rush of 1849
When gold was discovered at Sutter's Mill in California in 1848, it kicked off the largest mass migration in American history. Hundreds of thousands of prospectors, merchants and other fortune hunters soon made their way to California…
But few U.S. coins like Liberty Seated silver quarters and silver half dollars were available to conduct business in the fast-growing California economy. And merchants were hoarding coins to pay for imported goods at the Customs House in San Francisco, where U.S. legal tender was the only accepted currency.
Gold becomes "California Currency"
Though little coinage was available during the boomtown years, many prospectors were findng gold in or near streams and rivers. So most people had a pouch of gold dust or nuggets. And the bright yellow metal became the currency used to pay for goods and services. But it was an inexact medium. If the price of a drink at the saloon was "a pinch of gold," it meant how much gold dust the barkeep could extract from a miner's pouch with his thumb and forefinger!
Privately minted coins and ingots
The next California gold rush currency featured gold coins and ingots privately produced by jewelers, engravers or goldsmiths. "Pioneer Gold Coins" in denominations of $5, $10, $20 and $50 were struck by numerous California firms from 1849-1856. These coins filled the bill for larger transactions.
For smaller transactions, privately minted "California Fractional" gold coins in denominations of 25¢, 50¢ and $1 were introduced. (Though a dollar is not usually considered fractional, it's included here because its face value was much smaller than pioneer gold coins of $5 and higher.)
U.S. $1 & $20 gold coins debut in 1849
Gold bullion available for coinage rapidly increased during the California gold rush. As "Forty Niner" prospectors poured into California by land or sea, the U.S. Mints "back east" struck $1 gold coins and $20 gold coins for the first time. However, transporting raw California gold to the New Orleans or Philadelphia Mints was time-consuming and treacherous…
San Francisco Assay Office strikes coins
Even before California became the 31st state on September 9, 1850, there was lobbying from California businessmen for a branch U.S. Mint to strike gold rush ore into U.S. coins. As a quick compromise, Congress established a U.S. Assay Office in San Francisco to assay gold and strike special-issue $10 and $20 gold coins. Minted only from 1851-1853 and marked as U.S. Assay Office issues, most of these gold pieces were later recycled into regular U.S. coins.
The San Francisco Mint is established
Increasing demand for coinage in California finally resulted in the establishment of the San Francisco Mint in 1854. This was the beginning of an impressive minting legacy, as the San Francisco facility developed a reputation for coin production excellence. Many San Francisco gold and silver issues are among the finest-quality 19th-century U.S. coins. In fact, the early 1878-1882 "S" mint mark Morgan dollars are widely considered the most beautiful coins in the Morgan series.
If you collect California gold rush coins or 19th-century San Francisco Mint issues, please share your thoughts with other collectors.