80th Anniversary of the Jefferson Memorial!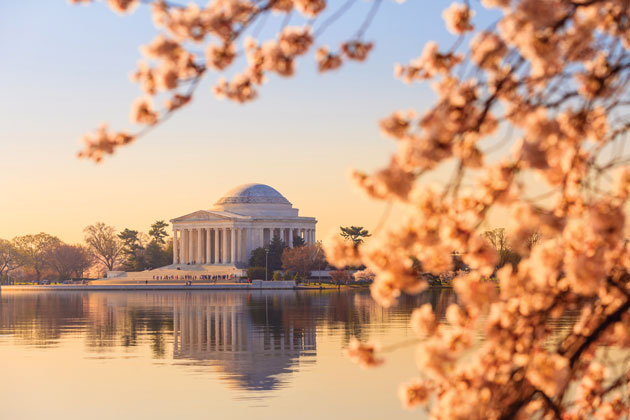 Nestled in the East Potomac Park in Washington D.C., the Jefferson Memorial is turning 80 this year. Approved as part of the beautification process for Washington D.C. in 1934, construction took nine years to complete. The memorial was dedicated on April 13, 1943, which was Jefferson's 200th birthday. The structure was designed by John Russell Pope, Otto R. Eggers and Daniel P. Higgins, inspired by the Pantheon in Rome and the Rotunda from the University of Virginia (that Jefferson actually designed)! Inside stands the 19-foot bronze statue of Thomas Jefferson. On the walls of the building are inscribed verses from some of his most famous documents like the Declaration of Independence.
Personal Life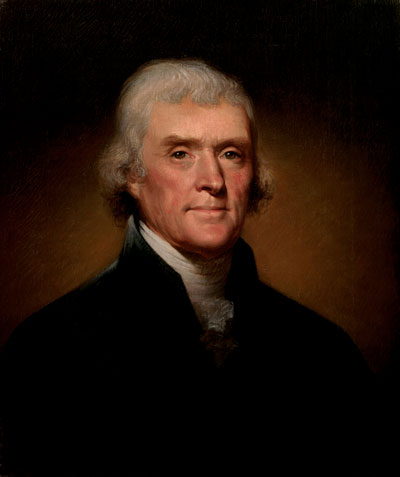 Parents Peter Jefferson and Jane Randolph welcomed Thomas Jefferson on April 13, 1743 in Virginia. His father was a surveyor and owned a large plantation while his mother came from one of the most distinguished families in the state. At the age of 14, Thomas inherited the family estate when his father passed away. His favorite place to play as a child was atop a mountain on the family's property – he dreamt of building a house there so he could live amongst the clouds. When he grew up, he brought his dream to life by building on top of the mountain and named his home Monticello. In January of 1772, he married Martha Wayles Skelton. The two occupied Monticello through their marriage and had six children although only two survived to adulthood. In their tenth year of marriage, Martha tragically passed away.
Early Professional Roles
Before becoming the third president of the United States, he played a significant role in the U.S. becoming its own nation. He attended the College of William and Mary as well as studying law for five years. In 1774, he drafted the Summary View of the Rights of British America. Written for King George III on behalf of the rights of the 13 colonies, it had no intent of separating from the motherland. A couple years later though he penned the Declaration of Independence which as we know was a clear stance and demand.
A Career in Service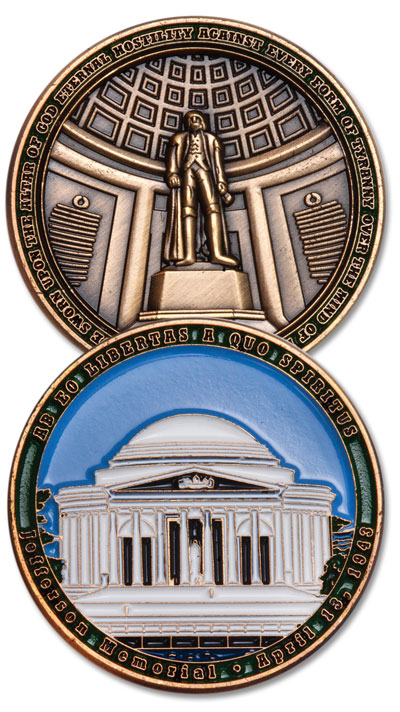 In addition, he served in the House of Delegates of Virginia as well as serving a term as the State Governor. He took a brief political break to write his book Notes on the State of Virginia, and returned to be the trade commissioner of France and eventually U.S. minister succeeding Benjamin Franklin. Under the new Constitution, he became the first Secretary of State under George Washington. Through a career in political service Thomas Jefferson helped shape the United States into what it is today.
Celebrating 80 years
If you have received our most recent Hard to Find catalog, be sure to check out pages 16 and 17 for special offers honoring this Founding Father. All new this month we have a patriotic selection to commemorate the 80th anniversary of the Jefferson Memorial. From coins to notes, there is something perfect for any collection. One of my personal favorite notes is this Colorized $2 Federal Reserve Note featuring Jefferson's Memorial in Washington D.C.. Coming to life with the capital's world-famous blossoming cherry trees in vibrant color. Be sure to check out our upcoming catalogs for more patriotic offers and pieces for your collection! Have you ever been to the Jefferson Memorial? Let us know in the comments!