7 Surprising Facts about Eleanor Roosevelt
Eleanor Roosevelt graces one of the five new 2023 quarters in the Women Quarters Series. This commemorative coin was designed by Don Everhart, from the Artistic Infusion Program and sculpted by Craig A. Campbell, a United States Mint Medallic Artist. The reverse is graced with a portrait of Eleanor Roosevelt and the scales of justice against a map-like back drop symbolizing her work through the Universal Declaration of Human Rights. You can explore the 2022 U.S. Women Quarters here and keep an eye out for when the 2023 coins hit our shelves!
7 Surprising Facts about Eleanor Roosevelt:
Born to parents Anna Hall and Elliott Roosevelt on October 11, 1884 in New York, New York. She was born with the name Anna Eleanor Roosevelt but she preferred her middle name and went by Eleanor. Both her parents died before she was ten years old – she was barely eight years old when her mother passed and her father shortly thereafter. She and her brothers were sent to live with their Grandmother where she attended an all-girls school.
She married her fifth cousin Franklin on March 17, 1905. Together the couple had six children within the span of a decade. The two were engaged when he was 22-years old and she was 19, their engagement lasted two years and then they wed on Saint Patrick's Day.
Served as first lady to the 32nd President Franklin D. Roosevelt from 1933 to 1945.
Worked with the American Red Cross from 1913 until 1920 and as the Assistant Secretary of the Navy during the same time, where she helped implement Navy policies during the first World War.
A history maker, she became the first First Lady to hold her own press conference, and only allowed female reporters to attend. She wrote her own newspaper column called "My Day" up until she died. She traveled the country, speaking to and meeting the American people.
A prominent advocate for women's rights, Eleanor was involved in numerous New York based networks that worked towards improving voting and workplaces for women. Among all of her trailblazing achievements, she bought Todhunter, an all-girls school in Manhattan New York with her two friends Nancy Cook and Marion Dickerman. Eleanor was an Associate Principal and taught literature, history and current event courses.
She passed away when she was 78, in her home state and town on November 7, 1962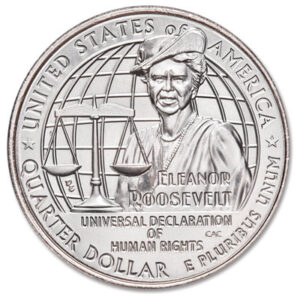 Eleanor Roosevelt redefined the role of what it meant to be the First Lady. As an active advocate, she was incredibly present amongst the communities in her country. From a tragic childhood to a trailblazer, Eleanor lived a life full of passion and service. It should be of no surprise why she graces the new 2023 quarter dollar as part of the U.S. Women Quarter series. Which women are you most excited to see on the U.S. Women Quarters? Let us know in the comments!