Broad or Brief – Collecting Coins in a Series is Satisfying
A 17-year-old Philadelphia youth gets the hat tip for a handy way of collecting coins nearly all of us use today, a series. Without a doubt, it's the easiest way to give purpose to coins that have caught our eye. Best of all, series collecting can be as broad or as brief as we want to make it.
1838 Liberty Head Large Cent
Thrill of the Hunt
In the case of apprentice piano maker, Joseph J. Mickley, it was the copper Draped Bust Large Cent struck the year he was born, 1799. We have a Heads & Tails blog article about how to create a heritage collection. But with a United States still so new, Mickley's hunt made him the leader in collecting all the coins in a series from every year of issue.
He started in 1816. By 1867, when his coin collection went up for auction, 140 Large Cents were listed in the catalog. Seen at right is an example of what one of those cents could have been.
What was going to get the teenager focused on collecting Large Cents? And to keep him going with a series for more than 50 years?
While an obvious answer isn't apparent, there are a few historical milestones from back in the day that made early coin collecting a thrill:
The War of 1812 embargo on importing copper planchets from Great Britain, with whom the U.S. was in armed combat
The subsequent disappearance of both Large and Half Cents along the east coast as westward territorial expansion accelerated in the war's aftermath
The 1815 copper shortage, resulting from the War of 1812, meant no cents were minted that year
The Congressional Act of 1835 that established mint marks; the first strikes occurred in 1838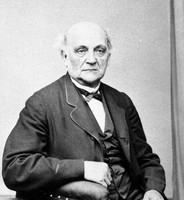 Joseph J. Mickley, photo courtesy of numismatics.org
This last milestone is noteworthy. By the last decade of the 19th century it established the ground work for eventually using mint marks to better define how to collect a series. Some of the very early branch mints that opened in Mickley's lifetime can be seen in this nifty set of colorized Kennedy Half Dollars that celebrate historic U.S. Mints.
For his part, Mickley matured his youthful enthusiasm for collecting coins to become a founding member of the Numismatic and Antiquarian Society of Philadelphia. From 1858 to 1867, he was its first president. A year after his death in 1878, the Royal Swedish Mint of Stockholm struck a medal in his honor.
Series Fun!
Collecting coins with all the date and mint marks of a specific design and denomination makes a series. It also makes series collecting versatile. You can keep collecting coins into the future even as you take a rear-view look to acquire the earlier coins from a series' start.
For example, if you only just acquired the last Philadelphia "P" and Denver "D" quarters in the National Park Quarter Series featuring Alabama's Tuskegee Airmen, you can collect in reverse the other quarters in this richly designed coin series until you have all 112 P&D coins.
Starting this year, you can collect the new quarter series featuring U.S. Women whose achievements helped shape the America we live in today. It launched with prize-winning author, poet and civil rights activist Maya Angelou. With five new quarter designs expected to be release each year through 2025, you begin by knowing the duration of this series. And that's an attractive budget consideration.
Or, you could look at these new quarter designs as part of a larger series of Washington Quarters because of the new obverse design of our first president and artist Laura Gardin Fraser. Pull back even further and the macro view gives you the opportunity for a series collection on U.S. quarters.
Best of all, collecting coins in a series is all about your choice. What series are you collecting?